India Pune Landslide: Emergency Personnel Race Against Time to Find 150 Missing People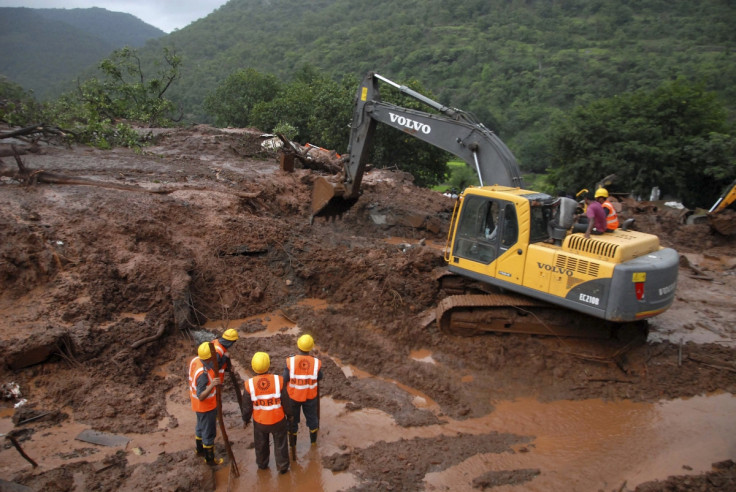 Emergency personnel are racing against time to find more than 150 missing people who are feared trapped under mud and debris following a massive landslide near the western India city of Pune.
Most of the victims were asleep when the landslide struck.
Twenty-seven people have been killed so far in the landslide triggered by heavy rain in a remote tribal village.
Rescue personnel have been able to pull out alive only eight people from the debris of mud and rock.
The entire village, with a population of 700, has been swallowed by the landslide leaving only rocks and slush in the area.
"At least 44 houses were washed away... About 158 people were residing in these houses... Maharashtra government will support the residents of Malin village," said Prithviraj Chavan, chief minister of Maharashtra state, where the village is located.
Troops have been deployed to assist the local authorities in the rescue efforts which have been hampered by continuing heavy rain and difficult terrain.
"Approaching the area was very difficult. It took a lot of time for us to reach as rain and mud made it difficult," said Alok Avasthi, an official from the National Disaster Response Force.
The authorities estimate it could take another 48 to 72 hours for the rescue operations to be over.
More than 100 ambulances have been pressed into service at the scene of the disaster.
Long years of deforestation in the region topped by torrential rain have weakened the soil leading to the disaster, say environmental activists.
An NGO has said that forests were cleared to make way for cultivable plots under a government scheme.
© Copyright IBTimes 2023. All rights reserved.