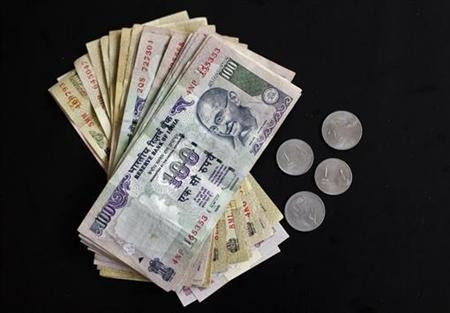 India's central bank has cut its short-term lending rate for the first time in nine months in a move to spur growth in the economy, which slowed down to a three-year low in the July-September quarter.
After its quarterly review on key interest rates, the Reserve Bank of India (RBI) has decided to cut the repo rate by 25 basis points to 7.75 percent.
While emerging economies such as China, South Korea and Brazil have all cut interest rates to boost growth, RBI has kept itself away from cutting the benchmark rates on worries of rising inflation above the bank's comfort level of 5-6 percent.
Nevertheless, India's headline inflation declined to the lowest level in almost a year, with the Wholesale Price Index (WPI), declining to 7.18 percent in December from 7.24 percent in November.
The decline in inflation, coupled with the pressures from the government and businesses, triggered the rate cut by the central bank.
A decline in repo rate will reduce the cost of home, auto and corporate loans boosting the economic activity in the country.
The RBI has also lowered its baseline WPI inflation projection for March 2013 to 6.8 percent from 7.5 percent expected earlier.
The reverse repo rate under the liquidity adjustment facility (LAF), determined with a spread of 100 basis points below the repo rate, stands adjusted to 6.75 percent with immediate effect, while the bank rate stands adjusted to 8.75 percent.
The RBI also slashed the cash reserve ratio (CRR) by 25 basis points to 4 percent.
In a report on the economy, issued earlier, the RBI has lowered the growth projection for the current fiscal year to 5.5 percent from 5.6 percent. The bank has also cut the growth forecast for the next financial year to 6.5 percent from 6.6 percent.
"With headline inflation likely to have peaked and non-food manufactured products inflation declining steadily over the last few months, there is an increasing likelihood of inflation remaining range-bound around current levels going into 2013-14. This provides space, albeit limited, for monetary policy to give greater emphasis to growth risks," the bank said in a statement.
Analysts expect the move by the RBI will boost the economic growth with more cash injected into the financial system.
"As for the cut in the CRR, releasing 180bn Indian rupees ($3.3bn) of liquidity into the financial system, we suspect that the RBI wanted to continue to appear supportive to the government's restarted reform agenda and banks' efforts to increase lending," said Jyoti Narasimhan, an economist at IHS Global Insight.
"Liquidity conditions remain fairly comfortable, and capital inflows have resumed with improving investor sentiment and easing global liquidity. The CRR cut remains primarily a market-boosting signal for the RBI."
IHS Global also expects the RBI to cut the repo rate by an additional 25 basis points in March.