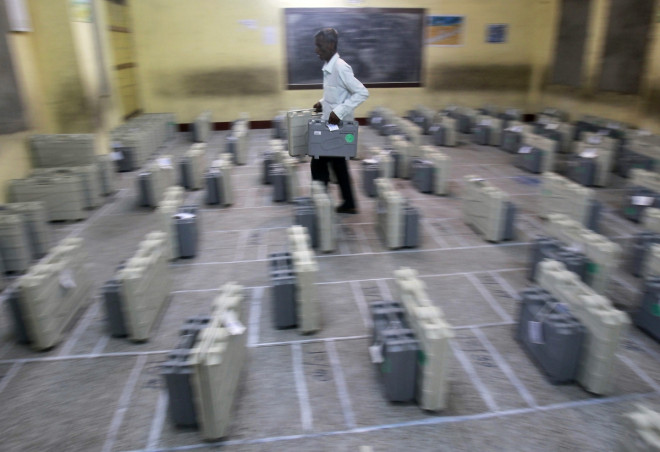 India is all set to hold the first phase of its general election in what has been billed as the largest-ever democratic exercise in global history with nearly 815 million people eligible to vote.
The 16th parliamentary elections will take place on nine days spanning six weeks, from 7 April to 12 May.
The results are expected to be announced on 16 May.
Six constituencies in the northeastern states of Assam and Tripura will go to the polls first.
More than 100 million voters have been added to the list since the last general election in 2009 for the Lok Sabha, the lower house of parliament.
Nearly 120 million, or 20%, are first-time voters and the youngsters, aspiring for better living standards, are expected to make a huge difference to the fortunes of the parties contesting the election.
As many as 930,000 polling stations have been set up across the country. On 17 April, 122 out of the 543 parliamentary constituencies will go to the polls.
Security has been beefed up to prevent violence from separatist and fringe groups.
The ruling United Progressive Alliance, led by the Indian National Congress which has been in power for the last 10 years, is up against a severe anti-incumbency factor.
The economic crisis triggered by a crawling growth of rate of 4.5% down from a peak of 8.5%, and allegations of large-scale corruption have marred the chances of the alliance.
NDA win forecast
The main opposition Bharatiya Janata Party, which is leading the National Democratic Alliance, has been widely predicted to win the election and its prime ministerial candidate Narendra Modi is expected to take over the baton from outgoing premier Manmohan Singh.
While one opinion poll gives the NDA 259 seats, 13 short of the 272 needed for a majority, another predicts 234-246 seats for the alliance, according to The Times of India.
The Congress-led alliance is forecast to win a little over 100 seats. The grand old party, lead by the Gandhi clan [no relation of Mahatma Gandhi] which has ruled India for most of the time since Independence from Britain in 1947, is widely predicted to get its worst-ever drubbing.
Even if the BJP wins the election, it will have to depend on regional parties such as the AIADMK, a Dravidian party in Tamil Nadu in southern India, according to analysts. This in turn could impact policy.
Some sections see Modi, the chief minister of the western Indian state of Gujarat, as a divisive figure. They accuse him of turning a blind eye to the mass killings of Muslims in Gujarat in 2002.
On the economic front, Modi is considered pro-business and a liberaliser, although his party, the BJP, is opposed to FDI in retail trade from where it has traditionally drawn much of its strength.
Sniffing an NDA win, India's stock markets are experiencing an unprecedented boom. FIIs have been reported to be particularly bullish.