The Indian government proposes to spend 253bn rupees to battle widespread theft of electricity, by improving metering in cities and upgrading the nation's rickety distribution networks.
The projects will help cut technical and commercial losses and improve utilities' collection efficiencies, according to the power ministry.
The projects will cost 326bn rupees ($5.27bn, £3.36bn, €4.2bn) in total, of which 253bn rupees will come from the government.
Under the scheme, the government will roll out meters on distribution transformers, feeders and consumers in urban areas, the power ministry said in a statement, following cabinet approval of the project.
The government will also strengthen sub-transmission and distribution networks.
Policy Plank
Cutting electricity theft and reducing transmission losses are part of Prime Minister Narendra Modi's efforts to provide uninterrupted power to the whole country.
Poor monitoring and outdated transmission lines have resulted in about 40% of electricity going unpaid for in some Indian states.
Deficit Improving
India's peak power deficit dropped to 5.1% in June, from 9% in 2012, as installed energy generation, over half of it powered by coal, has risen 20% over the past three years, according to government data.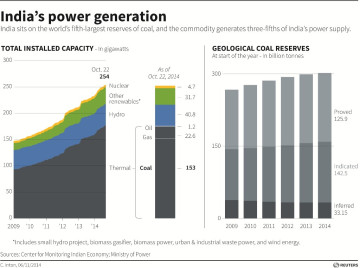 But cash-strapped distributors, their tariffs capped amid extensive power theft, have invested little in new transmission lines, Reuters reported.
As such, not enough of the extra power generated is being delivered to consumers.
Nearly a quarter of a century after India liberalised its economy, many businesses still depend on costly back-up generators for round-the-clock power. A third of the nation's 1.2 billion people are still not connected to the grid.
As chief minister of Gujarat in 2005, Modi was credited with tackling power shortages by cracking down on theft and by fixing the finances of local distribution firms hit by unpaid bills.