India's power minister has said that the world's second most populous nation will need $250bn in investments over the next five years to meet an expected doubling of energy consumption.
Power Minister Piyush Goyal, speaking at the World Economic Forum's India Economic Summit in New Delhi, estimated that $100bn (£62bn, €80bn) will find its way into renewable energy.
He also estimated India's total power consumption to double to two trillion units by 2019, reports said.
Goyal said the majority of the funds will come from the private sector but that the government will also invest more.
Clean Energy

"...Right now we produce one trillion units a year and the aim is to get to two trillion by 2019. But to do that there are challenges of fuel supply and ensuring how to increase the share of renewables. Till now, renewables only produce six per cent of the total number of units..."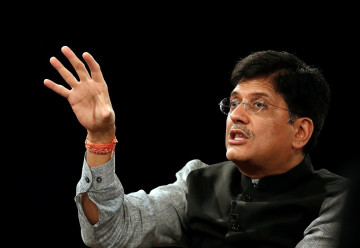 But "with interest rates coming down, a stability in the foreign exchange rate to help hedging, the cost of capital for renewable projects will come down," the minister said.
"The target of solar generation has also been increased to 100,000 MW by 2022," the minister added.
However, on nuclear projects, Goyal said the government was treading with caution as the lifecycle cost of a nuclear plan was still unclear.
"I hear that [the] US and Europe are also not developing new nuclear power plants. We are cautious about it as we don't want to be saddled with an old asset in the garb of alternate energy."
The Reserve Bank of India expects the Indian economy to expand by 5.5% in financial year 2014-15, from 4.7% in fiscal 2013-14.
Prior to the global economic crisis, Asia's third largest economy enjoyed an average 8.7% growth rate between 2006 and 2010.