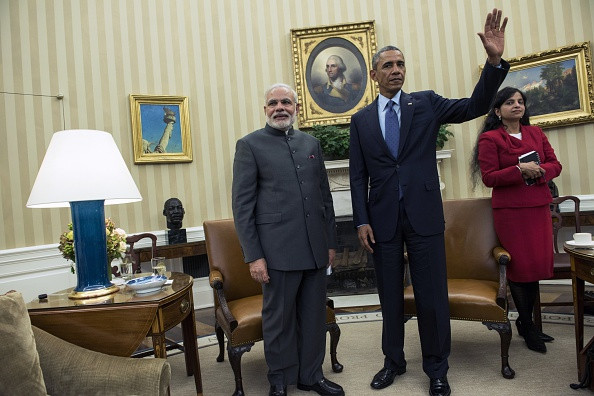 US President Barack Obama and Indian Prime Minister Narendra Modi have agreed to boost the trade between the countries five-fold, as the latter concluded his "satisfying" five-day visit to the world's largest economy.
The leaders agreed on boosting two-way trade to $500bn (£308bn, €395bn) from $100bn at present, the Press Trust of India (PTI) reported. However, the time frame for reaching that target was not set.
They also pledged to deepen economic cooperation and will set up a joint programme to boost business investment. An Indo-US Investment Initiative led by India's Ministry of Finance and US Department of Treasury, with special focus on capital market development and financing of infrastructure, will be established as per the plan.
Further, the countries will establish an Infrastructure Collaboration Platform convened by India's Ministry of Finance and the Department of Commerce, enhancing US investment in Indian infrastructure projects.
Another notable deal agreed on involves the US Export-Import Bank and India's renewable energy development agency.
"President Obama and Prime Minister Modi recognised that US and Indian businesses have a critical role to play in sustainable, inclusive, and job-led growth and development," according to a joint statement from the parties after the meeting.
"The President and Prime Minister underlined the important contribution that US locomotive technology, equipment to monitor rail system assets, and US best practices can play in modernising India's vast railway network, including accessing programmes of US Trade and Development Agency in this work."
Earlier, Modi met with 17 top US CEOs, discussing investment opportunities in India. The talks are expected to result in huge inflow of funds into India in the form of foreign direct investment.
The five-day US visit that started on 26 September was the first for Modi.
"Thank you America. I achieved a lot in these five days. I am going back to India very satisfied," he said while departing to his home country.