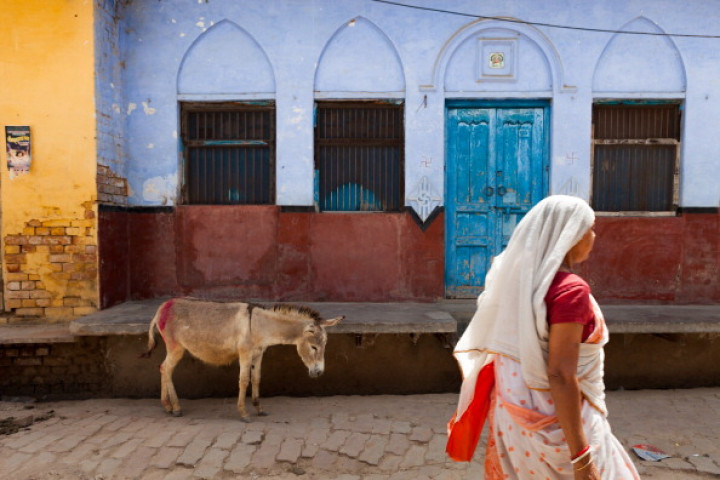 A woman has been stripped and paraded naked on the back of a donkey in India after suspicions arose that she killed her nephew.
The woman, from the remote village of Thurawad in the northern Indian state of Rajasthan, was accused of the murder by members of her family.
The man, 45-year-old Vardi Singh, was found dead amid suspicions he had killed himself.
However, three days later at his funeral, some members of his family alleged to local police he was killed by his aunt.
The family members then went to the village's council - which has no legal weight but is highly respected in rural areas - that concluded the woman was guilty of murder.
After the verdict, the woman's head was shaved and her face painted with coal dust. She was then stripped and paraded in the village on a donkey.
"It's a shameful incident that a woman was treated so badly on orders from the village council," senior police official Shweta Dhankhad told BBC Hindi.
"Initially, she was even afraid to talk about what had happened to her but after the police and officials from the social welfare department arrived, she was able to feel a little safe and narrate her ordeal," she added.
More than 30 people were arrested after the woman's husband lodged an FIR (First Information report document prepared by authorities in case of offences) with police.
This is not the first time that such a thing has happened in India, where women are often subjected to similar punishments after being accused, among other things, of witchcraft.
Last October Indian athlete Debjani Bora was wrapped in fishing nests, dragged to the village's community prayer hall and savagely beaten in a witch hunting attack.
The javelin thrower, who has won several gold medals, said she was tied up and beaten after being branded a witch, following the death of four people in the Karbi Anglong village, Assam state, where she lives.
The four deaths included a person who committed suicide.
The main targets of such punishment are usually women who are poor and belong to lower castes.