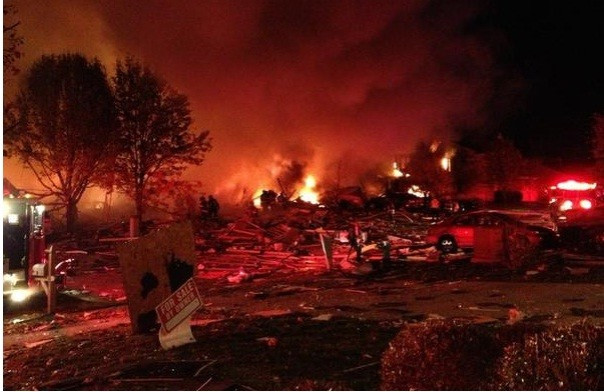 At least one person has been killed and several others injured when a massive explosion rocked the US city of Indianapolis in the late hours of Saturday.
Authorities have not revealed the identity of the victim or the exact cause of death.
Two houses were completely destroyed and several others were set on fire at Field Fair Way and Towhees Drive in the city.
Investigators are examining the possibility of a natural gas explosion. Indianapolis Mayor Greg Ballard, who attended the scene, ruled out the possibility of a plane crash.
The scene of the blast resembled a war zone and dozens of fire fighters attempted to contain the inferno.
Ballard said the damage extended to the "end of the blocks".
"It was so strong that it clearly had an effect for blocks. We're going to need some comforting in the next few days," said the mayor.
Authorities have evacuated the residents to a nearby elementary school, many of them in their pyjamas and with their pets.
Police and fire officials have blocked all roads around the area and the residents were given periodic briefings about the developments.
Television pictures showed thick smoke and towering flames in the area.