India's Dalit community has become 'soft target' for cow protection groups
Seven Dalit men were beaten up in India's northern state of Gujarat while trying to skin a dead cow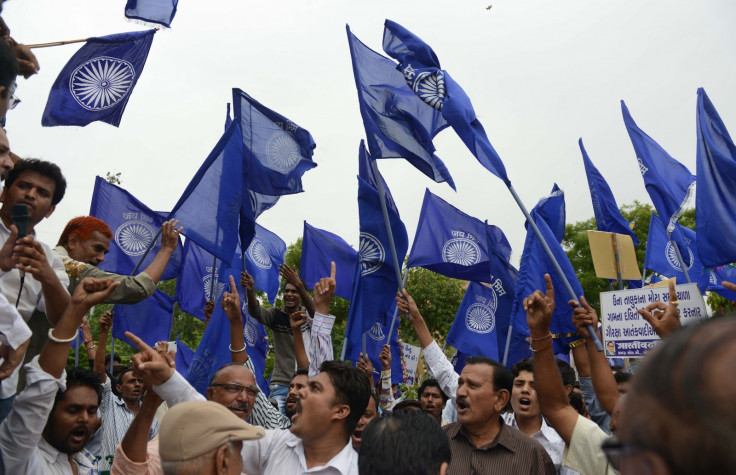 A new trend of cow protection groups attacking the "soft target" lower caste Dalit workers preparing dead cattle for leather production has been identified by a fact-finding team in India.
The eight-member team comprised of Dalits from a number of city-based NGOs and noted that "cow vigilantes" were on the rise in the name of saving cows, which are considered sacred by Hindus.
The fact-finding mission came a week after seven Dalit youths were beaten up in India's northern state of Gujarat while trying to skin a dead cow. According to the Press Trust of India, the attack lasted four hours, and triggered large-scale protests across the state.
Kaushik Parmar, who led the fact-finding team to the Mota Samadhilya village where the incident took place, said: "We have found out that this inhuman incident of beating Dalit youths was not a one-off. For many months these particular community members have become target of these cow protection groups."
Parmer noted that Dalits are not involved in the slaughter of cows, but are doing their traditional business in the leather trade industry. He accused the "cow vigilantes" of targeting these Dalit men, but refraining from attacking those who are actually involved the slaughter of cows.
The team found that there had been at least three similar incidents in the area over the past two months, which saw members of the Dalit community beaten up by members of cow protection groups. However, Parmer and his team noted that the attacks were related to skinning cows that were already dead.
Parmer said: "Earlier, such cow vigilantes used to target those who are involved in cow slaughter. But in the last seven to eight months, they have started targeting Dalit community members who are involved in leather business and are soft targets, to show their bravado."
Protesters and police have clashed as many took to the streets in anger over the assault on the Dalit men, leading to one police officer being killed and several others wounded. India's parliament has also been in uproar over the issue, with opposition MPs accusing Prime Minister Narendra Modi's government of failing to protect India's Dalits.
Many Hindus consider cows to be sacred to their religion and the slaughter of cows is banned in a number of states in India. In 2015, a Muslim man was lynched by a mob over allegations that his family had been storing and consuming beef.
© Copyright IBTimes 2023. All rights reserved.