Barcelona are facing a major dilemma over the next 14 games. After being held to a 2-2 to Celta Vigo on Saturday (2 December), Los Blaugranas remain eight points ahead of Real Madrid – who were held to a goalless draw against Athletic de Bilbao at San Mames – but now have real concerns over their defence.
Samuel Umtiti, the best centre-back in Spain so far this season, suffered a hamstring injury in the 70th minute of the game against Celta and will miss at least eight weeks of competition, ruling him out of El Clásico on 23 December.
In addition, Javier Mascherano was sidelined with another hamstring injury a month ago suffered during a match between Argentina and Nigeria and will need two additional weeks to before he is ready to return.
And therein lies the problem for Barcelona. When it comes to the subject of their defence, Ernesto Valverde warned the club's board of directors that he needed an additional option at the back for the 2017-18 season.
It was in August when Barcelona were about to sign Real Sociedad defender Iñigo Martínez. According to El Diario Vasco, Martínez wanted to leave his current club, but Diario Sport reported that Barcelona were not going to offer more than €26m – with the player's release clause standing at €32m.
Valverde was not strong enough to convince his sporting director to go all-out for his target – with his recent rival and relatively low profile unable to exert the sort of pressure that forces signings. But after a superb start to the season – he has still has not lost a single match in La Liga – he has gained credit and according to Diario AS, he is considering the signing of a player after so many problems at the back. Martínez remains the main objective, although Yerri Mina of Palmeiras and Ajax sensation Matthijs de Ligt are also on the shortlist.
According to the same source, the main problem when it came to signing Martínez signing was... Lionel Messi. "When Iñigo Martínez was about to arrive to Barcelona, Javier Mascherano insinuated that his arrival would leave him with no chances of playing the next World Cup. Given his power in the dressing room and Leo Messi's support, Barcelona had to take a step back when Iñigo had even searched for a flat", reported Diario AS.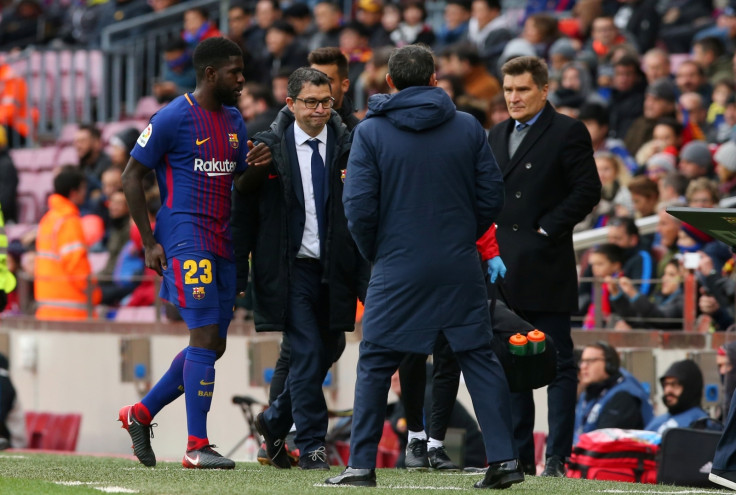 So, why would the situation change if Messi's influence was vital to preventing Martínez arrival? Because according to El Mundo Deportivo, Mascherano is now considering leaving the club in January.
The World Cup would be the main reason for him to look elsewhere because so far, Umtiti and Gerard Pique have played almost every game this season. "Mascherano does not want to remain playing in Europe. In fact, he would be interested in minor leagues such as the MLS, China or Saudi Arabia, though Asia is his preferred option. Even Umtiti's injury has not changed his mind because he knows he is about to play his last World Cup and need to have guaranteed minutes until June", reported El Mundo Deportivo.
This could have a domino effect at Barcelona, something Valverde will not hesitate to start. After taking over at Athletic de Bilbao in 2013, Martínez was constantly on the manager's radar. He tried to sign him in 2016, the year before he tried to make him one of his first signings as Barcelona manager.
Martínez wanted to leave Real Sociedad, as reported by El Diario Vasco last summer, and top clubs across Europe know it. He has been linked with Manchester City and Real Madrid in recent weeks and when he was asked about a hypothetical move in the future, Iñigo said recently that "any player who stands out nowadays is going to have suitors to sign him. Careers in football are too short and I don't see it as strange when players want to leave. We want the best players at Real Sociedad but if any of our players decide to move, we have to thank them and wish them the best."
With Real Madrid, Inter Milan, Manchester City and Barcelona following him, it is difficult to envisage Martinez remaining at his club in the long-term. Mascherano's departure would help him fulfil his dream of playing for Barcelona.