Intel's shares were down more than 5 percent in after-hours trading following the announcement of the company's fourth quarter financial results where it outlined cautious expectations for 2013.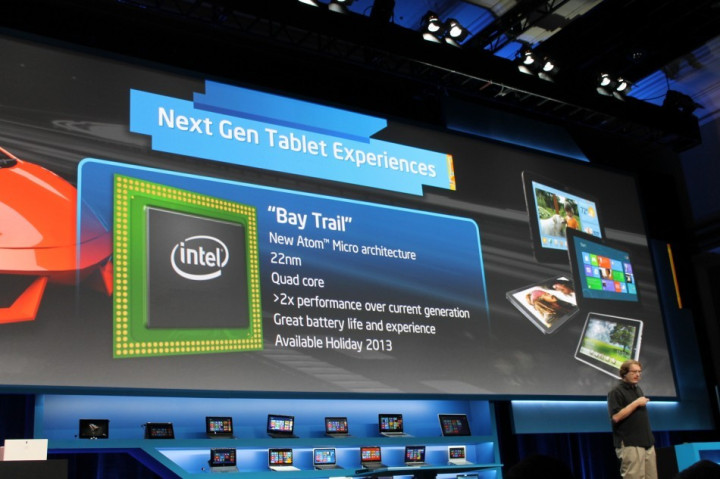 Intel is the world biggest chip maker, but as consumers move away from the traditional desktop and laptop PCs, and look at more flexible solutions like tablets, convertibles and even large smartphones, it is facing a challenge to keep up with the change.
Intel has only gotten into the low-power mobile chip business in the last 12 months or so, and is facing a major struggle to take a significant slice of the market from the ARM-based chips of Qualcomm, Nvidia and Samsung.
This was reflected in its outlook for 2013, with revenue for the current quarter slightly below Wall Street expectations, while the company cautiously said it expected growth during 2013 in "low single digits."
Intel's Q4 results were broadly on a par with analysts' expectations, with the company reporting revenue of $13.5 billion (£8.45bn), $2.5bn in net income and earnings-per-share of 48 cents - which was slightly above Wall Street expectations.
Giving its forecast for the current quarter, Intel predicted revenue of $12.7bn (plus or minus $500m), which is below the $12.91bn predicted by analysts. The result of this uncertainty has been seen in after-hours trading, with Intel shares currently down over 5 percent (as of 9am GMT).
"The revenue isn't going to be there, but the margin and expense control is going to stabilize the bottom line," said Cody Acree, analyst at Williams Financial. "I think it's probably a success if you can be flat in an industry that most people expect to be flat-to-down."
State of flux
The consumer PC market is currently in a state of flux, as people look to switch to tablets such as the iPad and Google Nexus 7. Figures released by Gartner last week showed shipment of PCs fell by over 12 million units in the last 12 months, indicating that instead of buying a tablet to complement their PC, they are replacing their PCs with tablets.
In a conference call following the announcements of its results, Chief Financial Officer Stacy Smith said: "For [the] core PC market, we have pretty modest expectations in units. We think growth comes from the devices that sit in the middle. Plus we start to participate in the tablet market."
Intel is looking to get a foothold in the tablet market, as well as the smartphone market, and at CES last week launched a new smartphone platform and its Bay Trail chip which it is hoping will get it a bigger slice of the Android and Windows RT tablet market.
However the company's CEO, Paul Otellini said during the call that investors shouldn't expect the first half of the year to be much better than 2012: "[In the second half of 2012] we become more represented across Windows tablet and Android across 2013, and that gives us a better than seasonal second half of the year."
Smartphones
In terms of smartphones, Intel said at CES that it will be targeting the value end of the market with its latest low-power Atom chip (known as Lexington) and during the conference call, Otellini looked forward to 2014, when he said we would see the first Atom chip with integrated LTE. "[It is a] very competitive solution. The Infineon team is known not for being first to market, but [being] very good, and cost effective. In terms of integrated solutions, expect higher levels of integration next year."
Intel wil;l released the fourth generation of its Core processors this year (known as Haswell) which is promising the largest increase in battery efficiency ever (generation-on-generation) and will be seen in a range of Ultrabooks towards the middle to end of 2013. While Intel has been pushing the Ultrabook standard for 18 months now, it has yet to grab the public's attention and according to one of Intel's main OEM manufacturers, mandating a range of features like touch for the Haswell chips will keep prices high and out of the reach of most consumers.
Intel also announced that it would be spending $18.9bn (again plus or minus half a billion) on capital expenditure, including research and development, which is more than was expected, however Otellini justified it by saying: "Regardless of what you think the size of the market is, the fabs [factories] are the most important assets we have."
Intel is in the initial stages of converting its factories for a new method of making its chips, using larger 450mm silicon wafers (compared to the 300mm wafers currently being used). However Smith said that while some of the spending in 2013 may be towards this conversion, we won't be seeing real capital expenditure on it until "the back end of the decade."