Intel will target the lower end smartphone market in 2013 with the launch of a new smartphone platform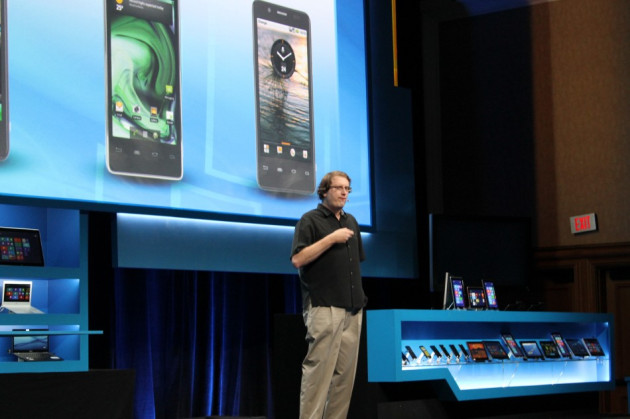 Follow all the news, reviews and rumours on our CES 2013: Live Blog
Intel has just finished its CES 2013 press conference which it announced a number of updates across its smartphone, tablet and PC chip lines. Known as Lexington, the new smartphone platform will be supported initially by Acer and a couple of manufacturers which won't be well-known to Western audiences - Safaricom and Lava.
The support of these two manufacturers clearly indicates the audiences which Intel is targeting with customers in developing countries the main customer sector.
Like it did with it's Medfield platform last year, Intel has made a reference model available to its hardware partners in a bid to get phones to market faster.
The reference design features a 3.5in screen, is optimised to run Android applications and features dual-SIMs and dual-standby.
Despite Intel saying it will be target the "value smartphone" platform, it says the Lexington platform will be comparable to much higher end smartphones in terms of features.
The new platform will support HD video encoding and decoding plus it will feature full set of video codecs. The Intel Atom Z2420 with Intel Hyper-Threading Technology that can achieve speeds of 1.2 GHz.
Market segmentsorm
"The addition of the low-power Atom platform enables Intel to address new market segments and further rounds out our expanding portfolio of smartphone offerings," said Mike Bell, ice president and general manager of the Mobile and Communications Group,.
"We believe the experience that comes with Intel Inside will be a welcomed choice by first-time buyers in emerging markets, as well as with our customers who can deploy more cost-conscious devices without sacrificing device performance or user experience."
Intel claimed the "value smartphone" could reach 500 million devices by 2015 and it's clear that this is an area where the company believes it can challenge the domination of ARM-based processors from the likes of Samsung, Nvidia and Qualcomm.
As well as the budget end of the market, Intel is not going to ignore the performance end of the market, with Bell also highlighted the forthcoming Intel Atom Z2580 processor platform (formerly known as Clover Trail+).
The platform includes a dual-core Atom processor with Intel Hyper-Threading Technology, and also features a dual-core graphics engine. He said the new platform will deliver up to two times the performance benefits over Intel's current-generation solution (Intel Atom processor Z2460 platform), while also offering competitive power and battery life.