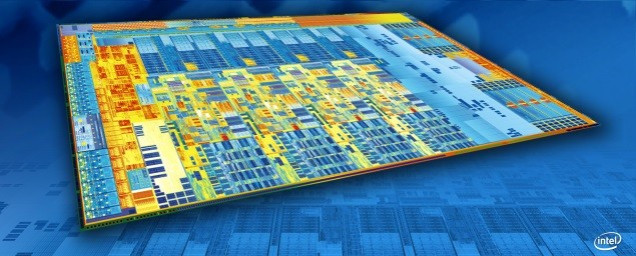 Intel has unveiled the technical details of its new range of chips based on the Broadwell microarchitecture which it claims will allow for ultra-thin, low power and fanless computing.
Intel had been planning to launch the Broadwell range of chips in 2013 but problems with quality control has delayed the roll out, and the first devices to use the new energy efficient chips are expected later this year.
The first chips to roll off the production line will be Intel's Core M system-on-chip (SoC) which was first demoed at Computex in June.
Intel's new Broadwell is a die shrink of its current Haswell microarchitecture, with Intel using a new 14 nanometre process compared to Haswell's 22nm fabrication.
Fanless Computers
Intel says that as a result of it being able to achieve a two-times reduction in thermal design power (TDP), the Broadwell chips will be able to operate without needing a fan to dissipate heat and cool the processor down.
"The new microarchitecture was optimised to take advantage of the new capabilities of the 14nm manufacturing process," states Intel.
"This new microarchitecture is more than a remarkable technical achievement," Intel vice president Rani Borkar said in a statement. "It is a demonstration of the importance of our outside-in design philosophy that matches our design to customer requirements."
Power efficient
The Broadwell chips are also extremely power-efficient, making them ideal for use in mobiel devices and the growing Internet of Things category. This is as a result of the use of Intel's second-generation Tri-gate (FinFET) transistors.
The yet-to-be-released processor is claimed to have a 60% lower idle power level which should provide for increased battery backup-times in future devices.
Core M's structure is said to be 50% smaller and 30% thinner compared to Intel's previous-generation Haswell chips. This aspect suggests that the Broadwell chips will be a perfect-fit for portable devices such as laptops and tablets.
Products using the Intel Core M processor are slated to go on sale in time for the busy Christmas period with wider availability starting early 2015.
Devices
As of now, the exact devices that run the Intel Core M processor are yet to be made official, but Borkar who showcased a reference device that was just 7.5mm thick, during Computex in June.
"Core M enables less than 9 millimetre fanless two-in-ones for the first time on the Intel Core roadmap," Borkar told CNET. "You will get in those systems the Core performance you have come to expect."
Intel is expected to make many more announcements regarding Broadwell-based chips for servers, mobile devices and embedded systems in the coming months.