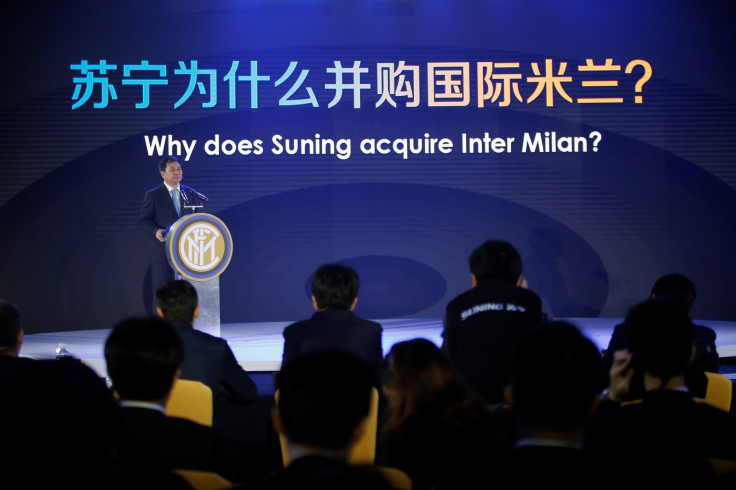 Suning Commerce Group is set to acquire a 68.55% stake in Inter Milan, a professional Italian football club based in Milan, Lombardy. The Chinese appliance retailer will pay €270m (£212.34m, $306.57m) for the stake.
This was confirmed by Suning on Monday (6 June) at a joint news conference in Nanjing, China. Inter Milan executives, including Erick Thohir, the current majority owner and president of the club, were also present at the event.
A source told Reuters that as per the deal, Thohir will cut his share in Inter Milan to 31% while Massimo Moratti, the former club president who holds just under 30%, will sell his entire stake. Inter Milan said Moratti would exit the club, while Thohir will continue as president and become the sole minority shareholder in the club.
Zhang Jindong, chairman at Suning, said he was "excited and thrilled" with the acquisition of a club that has so much history. "Suning Holdings Group entered the world of football only a year ago, and now we are in alliance with one of Europe's top clubs," he added.
Suning owns the Jiangsu Suning Football Club, a professional football club that currently participates in the Chinese Super League (CSL). This club was in the news earlier this year for acquiring Chelsea's Brazilian midfielder Ramires for €28m and Brazil's Alex Teixeira for €50m, both of which were record deals for CSL. Apart from this, the retailer signed a three-year deal in 2014 with FC Barcelona with on sponsorship.
The acquisition comes at a time when Xi Jinping, the President of the People's Republic of China, has revealed his intentions to make his country a football powerhouse. Earlier this year, the Chinese government had even approved a programme that intends to make China's national football team among the best in Asia by 2030.
Apart from Suning, other Chinese companies such as Dalian Wanda, a Chinese conglomerate which is also the biggest private property developer in the country, is associated with the sport. While it acquired a 20% stake in Atlético Madrid football club for €45m in 2015, it has also signed a deal with Fifa to sponsor the next four football world cups.
Another deal is that of a Chinese investment consortium acquiring a 13% shareholding in Manchester City football club in December 2015. The consortium was led by China's leading media, entertainment, sports and internet dedicated investment and operating company CMC (China Media Capital) Holdings.
Such deals come at a time when football is being loved and followed in China. This in turn is said to help Chinese investors to profit from the sport by way of broadcasting rights and merchandise sales.