InterContinental Hotels Group Capitalises Robust Chinese Demand to Drive Future Growth
Shares of InterContinental Hotels Group (IHG) rallied 1.4 percent last week, driven by rating upgrade to 'Outperform' from 'Neutral' and increased earnings estimates from Credit Suisse. The group is scheduled to release its first quarter results on Wednesday.
"We view IHG as the highest quality business in the European hotel sector given its high and rising returns, driven by a capital-light predominantly managed and franchised model," said Credit Suisse. The broker hikes its target price for IHG to 1,692 pence from 1,521 pence, implying 14 percent potential upside.
Credit Suisse raised IHG's full-year 2013 profit earnings per share by 7 percent and observes scope for 32 percent improvement to 2014 consensus estimates, provided sustained trading momentum.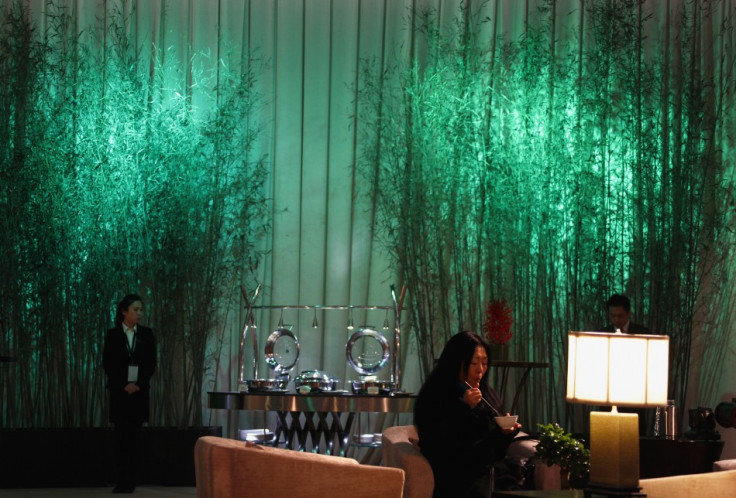 On Monday, the global hotel company with seven brands internationally announced that due to popular demand it is getting back the "Vacation Pay" promotion, under which guests will receive a $75 prepaid card when they stay two consecutive weekend nights at any of IHG's 4,400 hotels worldwide. U.S. residents who plan their vacation between May 14 and September 3 will receive this offer.
"For most travelers, budgets are top of mind when booking summer vacations, and the rising costs associated with travel can add extra stress as they begin the planning process. We're bringing back 'Vacation Pay' to take some of the financial pressure off our customers, by putting some extra cash back in their pockets in hopes of providing them with a carefree and relaxing vacation," said Karyn Sarago, Marketing Manager at IHG's Leisure Travel.
In February, IHG announced that it expects to create 2,992 new jobs across its 275 hotels in the UK over the next three years, including over 1,144 new jobs during the current year. The group also announced the launch of its newest hospitality training Academy in London which will impart hospitality training and provide opportunities to work for a global hotel company with world renowned hotel brands.
For the FY 2011, Britain's no. 1 hotelier reported 9 percent increase in revenues at $1.8 billion with operating profit before exceptional items of $559 million, up 26 percent. Adjusted earnings per share rose 32 percent to 130.4 cents.
"We think the 2011 results are solid with a decent outlook statement. We expect that a continuing strong performance in the U.S. and Asia will likely lead to 5 percent plus upgrades to consensus 2012 forecasts," said analyst Ian Rennardson at Jefferies.
InterContinental Hotels Group earns around 10 percent of profits from its 167 hotels in China with a further 147 in the pipeline to open shortly. The group is expected to launch another exclusive brand together with InterContinental to meet the increasing demand.
Looking ahead, the owner of Crowne Plaza and Holiday Inn expects emerging markets particularly China to drive future growth after a recovery in the US and a series of new Chinese hotel openings which increased 2011 profits.
"Despite the euro zone crisis we are upbeat about the future as people still wanted to travel for business and leisure, while emerging markets were growing strongly. We go where the travellers are. We see good momentum in the U.S. economy with economic data there quite positive while China is our fastest growing region and our business there has doubled in the last two years," said CEO Richard Solomons.
Below is a summary of sector comparisons in terms of price earnings, earnings per share, dividend per share, dividend yields, return on equity and price-to-book ratio. The table explains how the company is performing against its peers/competitors in the sector. The table below represents top ten companies based on market capitalisation.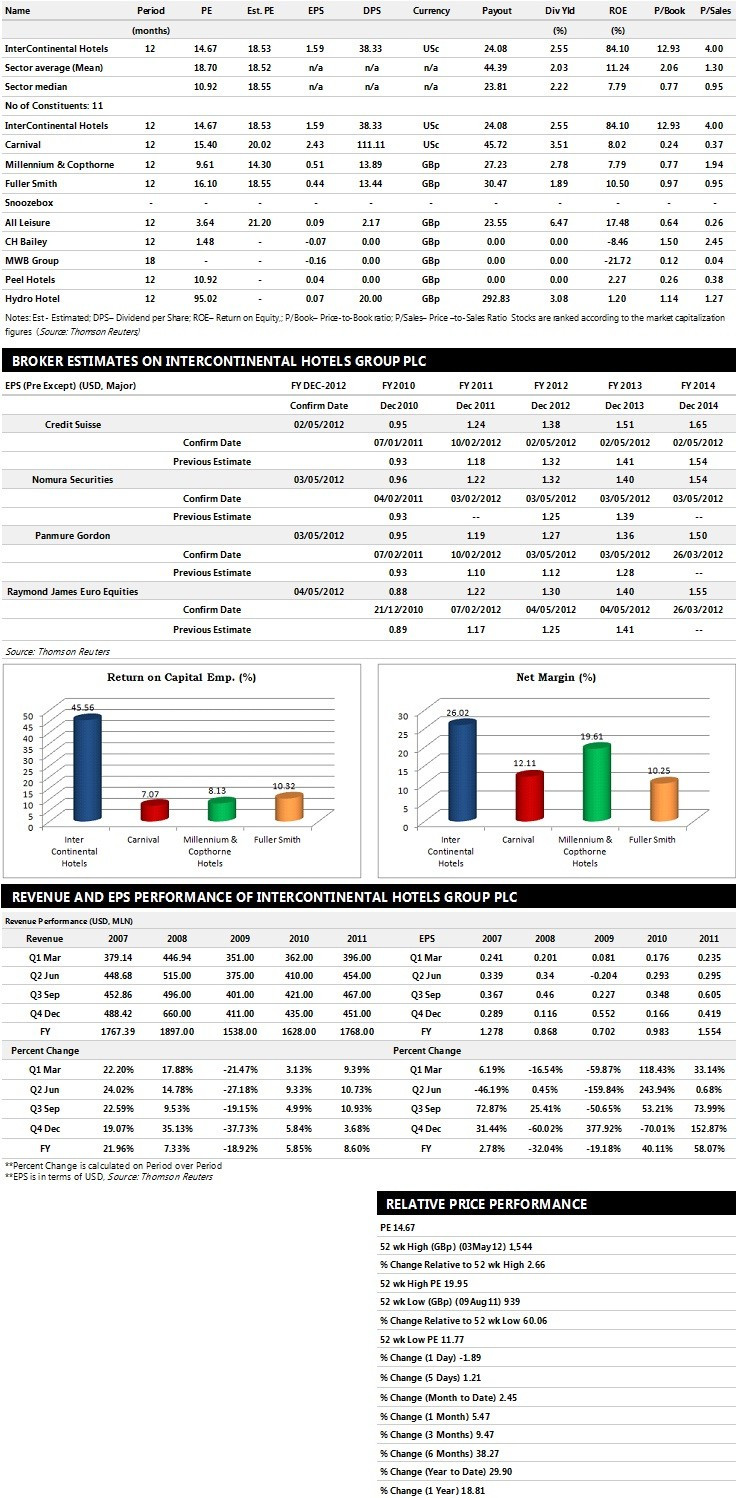 Brokers' Views:

- Raymond James Euro Equities assigns 'Outperform' rating
- Panmure Gordon assigns 'Hold' rating
- Nomura Securities recommends 'Hold' rating
- Citigroup raises price target to 1745p from 1600p and gives 'Buy' rating
Earnings Outlook:

- Raymond James Euro Equities estimates the company to report revenues of $1,825.40 million and $1,980.88 million for the FY 2012 and FY 2013 respectively with pre-tax profits (pre-except) of $511.73 million and $565.42 million. Earnings per share are projected at $1.30 for FY 2012 and $1.40 for FY 2013.
- Panmure Gordon projects the company to record revenues of $1,784 million for the FY 2012 and $1,869 million for the FY 2013 with pre-tax profits (pre-except) of $523 million and $585 million respectively. Profit per share is estimated at $1.27 and $1.36 for the same periods.
- Nomura Securities expects InterContinental Hotels Group to earn revenues of $1,848 million for the FY 2012 and $1,943 million for the FY 2013 with pre-tax profits of $532 million and $578 million respectively. EPS is projected at $1.32 for FY 2012 and $1.40 for FY 2013.
© Copyright IBTimes 2023. All rights reserved.