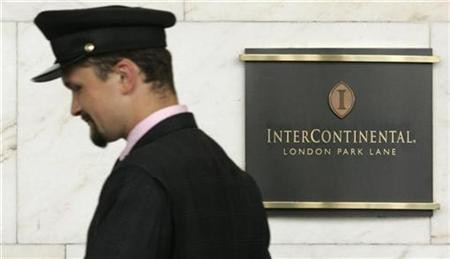 Shares in InterContinental Hotels were down on the FTSE 100 after the group reported falling operating profit and higher net debt in the third quarter ended 30 September.
Group revenue was up five per cent to $421 million, however operating profit declined seven per cent to $115 million from the same period in the previous year.
InterContinental also reported a rise in its net debt from $801 million in the third quarter last year to $1.2 billion.
During the period InterContinental opened 51 new hotels, but closed 47, taking the group's total system up three per cent to 4,507 hotels with 657,954 rooms. In addition InterContinental said it would be creating 160,000 new jobs in the next few years, of which 3,000 will be in Britain.
The group said that it had nearly finished the relaunch of Holiday Inn and that it was continuing to press on with its campaign to reduce costs and increase efficiency.
Andrew Cosslett, Chief Executive of InterContinental Hotels, said, "The quarter saw a return to rate growth for the first time since early 2009, a clear sign that the recovery is gathering pace. Global RevPAR was up 8.1% with Greater China RevPAR increasing 24.4% and Europe, Middle East and Africa RevPAR grew at its fastest pace for two years.
"In the Americas, where RevPAR growth in the important midscale segment started to accelerate, the sharpest improvement was seen in our Holiday Inn brand family with guests staying more and paying more at the relaunched hotels. The wider benefits of the relaunch are clear with Holiday Inn signings in the US up on 2009.
"The attractiveness of our system and brand strength is reflected in our leading 17% share of the global pipeline of new build hotels, our re-entry into the priority Hawaii market with Holiday Inn and an alliance with Las Vegas Sands Corp to bring The Venetian and Palazzo Resorts into the InterContinental system.
"While visibility is still limited, business confidence and corporate profitability remain positive and, with supply anticipated to stay below historic levels, industry trends look favourable. With over 1,200 hotels in our development pipeline we expect to create over 160,000 new jobs in the next few years. We are focused on driving share, improving margins while investing behind growth and creating value for shareholders. Our balance sheet is in excellent shape and we continue to generate significant cash flow."
By 13:45 shares in InterContinental Hotels were down 5.99 per cent on the FTSE 100 to 1,130.00 pence per share.