Arsene Wenger's Arsenal are still in the Carabao Cup. Just. But they are already out of the FA Cup and as good as out of the Premier League title race. They never even made it to the Champions League this season, ending a long run of membership of Europe's elite, even if the north Londoners rarely threatened to enter the actual winner's enclosure.
There is a distinct fin de siècle feeling around The Gunners. Last season saw a fevered campaign to oust the long-time French manager. By the end of 2016/17 however, Wenger had won the FA Cup and signed a new two-year contract and such talk seemed to have been put to bed, despite Arsenal's failure to reach the Premier League's top four for the first time in Wenger's 21-year tenure. But, here we are again, halfway through the first season of that new contract and the discontent is mounting once again.
And now the club seems to have joined those vocal fans by laying the ground work for the post-Wenger era. Carlo Ancelotti is reported to have been lined up to take over in the summer should Wenger quit. The Italian is a decade younger than the 68-year-old Wenger and had a successful stint in England with Chelsea. His availability may be fueling the speculation, having been sacked by Bayern Munich at the start of the season.
Beyond the big name manager speculation, however, Arsenal are moving on and Wenger's power base is slowly being diminished. Sven Mislintat was brought in from Borussia Dortmund to become Arsenal's head of recruitment. Chief executive Ivan Gazidis and majority shareholder Stan Kroenke may have granted Wenger that two-year contract, but it seems unlikely the Frenchman's tenure would be again extended. Managers with definite end-dates can find themselves dead men walking, as Sir Alex Ferguson found to his cost during the 2001-02 season when he announced his plan to retire and saw his team stumble until he changed his mind and went on to manage Manchester United for a further decade.
Arsenal's money men have thus far shown faith and loyalty in Wenger and have given him the opportunity to leave on his own terms. But they seem to be hoping he will jump at the end of the season rather than find himself timed out at the end of the following campaign.
Whether Wenger will oblige them is another question. He is a stubborn man and seemingly unable to read the signs of a team whose peak came a long time ago and while still capable of playing beautiful football and remaining a member of the Premier League's elite, their lustre is diminishing.
Next month Arsenal will return to Europa League action, a symbol of their diminished standing, although also not unrelated to the growing band of England's Super Clubs making Champions League qualification that bit more uncertain.
Arsene Wenger's trophy cabinate at Arsenal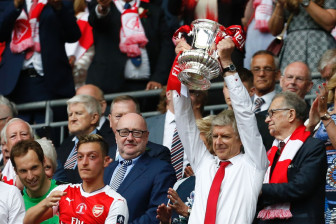 Premier League: 1997-98, 2001-02, 2003-04
FA Cup: 1997–98, 2001–02, 2002–03, 2004–05, 2013–14, 2014–15, 2016–17
FA Community Shield: 1998, 1999, 2002, 2004, 2014, 2015, 2017
At least they are still in that competition. Nottingham Forest's giant killing last weekend was the first time Wenger had been knocked out of the FA Cup at the third round stage. The competition has been Wenger's forte this decade, claiming the famous old piece of silverware in three of the last four competitions. But it is now 14 years since Arsenal last won the Premier League and each season that target moves a little further away.
Arsenal still play the flowing, passing football that Wenger has always prescribed. But the defensive foundation that Arsenal relied upon to win the league all those years ago has long since disappeared. There is a case to be made that Wenger only half won those titles, the other portion being owed to the defensive qualities brought to the club by George Graham.
Wenger has never adequately replaced the foundations of Tony Adams, Martin Keown, Lee Dixon and Nigel Winterburn, one of the stingiest and well-drilled back fours football has ever known. Wenger's teams play attractive football but succumb to the same defensive frailties again and again, in personnel, formations and behaviour.
To watch Per Mertesacker wrong-footed so easily in the build up to Forest's decisive fourth goal in the FA Cup third round was a snapshot of where Arsenal have gone wrong. The Arsenal defence – and just as worryingly it's midfield shield – have been manned by a succession of interchangeable, almost-instantly forgettable imports. The famous old chorus of "1-0 to the Arsenal" is rarely ever heard.
At the other end of the pitch, Wenger has outshone Graham, but even there the Frenchman seems to be trapped in a mindset that has stopped moving forward.
In some ways the flatlining of Theo Walcott's career is emblematic of what has happened to the club. A precocious and talented teenager when he signed from Southampton, Walcott is virtually the same player now as he was when he joined: capable of moments of brilliance but most likely to speed down a straight line and end up in a dead end. Walcott could leave sooner rather than later. Ditto Alexis Sanchez. The Chilean is of course on another level to Walcott but has seemingly grown tired of playing scintillating football for few rewards.
Maybe Wenger's time has finally come too. He would surely like to win one more piece of silverware before he leaves, but this season that depends upon the less glamorous options of the EFL Cup and Europe's second tier competition. Wenger has done enough for Arsenal to still deserve to choose how and when he leaves but that moment is approaching whether he likes it or not.
The fans who would like to see that moment come sooner rather than later should be careful what they wish for. There is no guarantee that the next manager will automatically win a Champions League place back in a league where the big six all want a place in the top four. The owners should be careful what they wish for too. Wenger is invested in the club and willing to meet the financial requirements of his bosses, but a new manager will be much more likely to splash the cash for instant rewards. Decision time is looming.