Veteran hacker Pod2g has been busy in his quest to test his latest jailbreak took (untethered for iOS 5.1.1) on all iOS devices. A post on his blog has some interesting tidbits regarding the forthcoming Hack in the Box (HITB) security conference in Amsterdam.
According to iDownloadblog, the conference is to be held from 21 May through to 25 May and will witness a large assembly of high profile speakers and key sponsors like Microsoft and Research in Motion (RiM). The most intriguing part of this conference is expected to be news regarding the highly-anticipated jailbreak tool for iOS 5.1.1 untethered.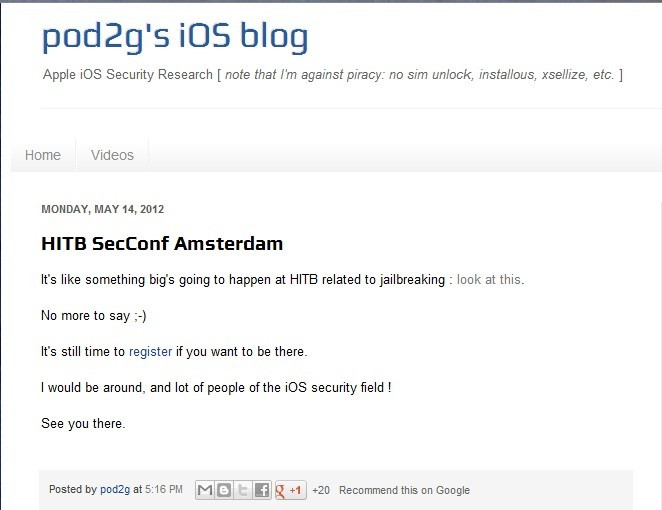 Nevertheless, pod2g's blog post sounds affirmative and the escalating buzz surrounding the HITB hints that something big is coming our way.
"It's like something big's going to happen at HITB related to jailbreaking: look at this. No more to say ;)," writes pod2g on his blog update.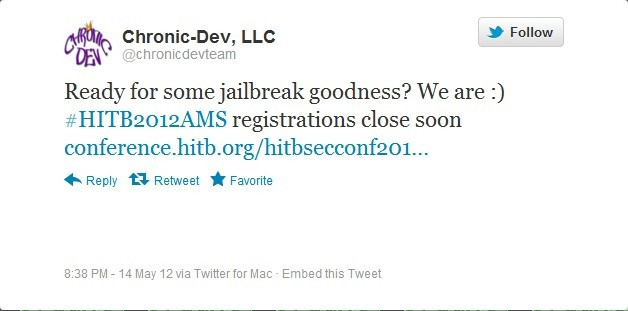 The hacker also shared a link on his blog - a tweet from the Chronic Dev Team's official Twitter account. Incidentally, the team will be the creators of the untethered jailbreak for iOS 5.1.1. that incorporates pod2g's latest exploits.
Pod2g earlier reported the tool was expected to be available in two weeks. However, the conference will be held in less than two weeks and there is a possibility we might see the launch of the next untethered jailbreak, considering the rapid progress made by pod2g and his Dream Team of hackers.
The conference's last day is 25 May and anything could happen between now and then.