The p0sixspwn developing team has updated it to the latest version, to address some of the bug issues.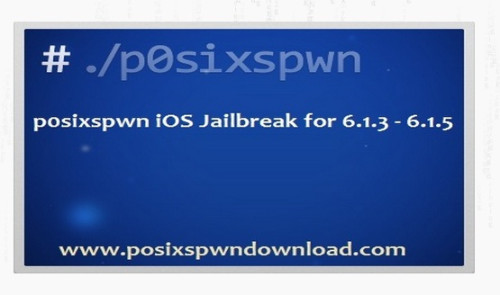 Renowned iOS hackers wincom, iH8sn0w and SquiffyPwn had recently released p0sixspwn, the much anticipated untethered jailbreak for A5 devices running on iOS 6.1.3, 6.1.4 and 6.1.5. Now, the developer team has released an update to p0sixspwn, v1.0.5, which supports both Mac and Windows.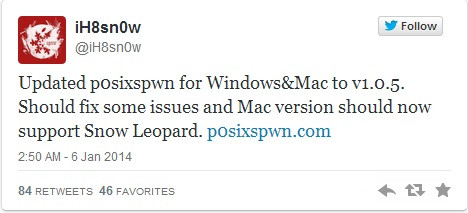 The p0sixspwn 1.0.5 fixes some of the issues spotted in the previous version but the team has no details about those particular issues. In addition to that, the Mac version now supports Snow Leopard.
"Updated p0sixspwn for Windows & Mac to v1.0.5. Should fix some issues and Mac version should now support Snow Leopard," tweeted iH8sn0w.
Those iOS users, who wish to perform an untethered jailbreak on their devices using p0sixs0pwn v1.0.5, may follow our step-by-step guide. (This method is courtesy of iPhone hacks)
Compatible devices
iPhone 3GS, iPhone 4, iPhone 4S, iPhone 5
iPod touch 4g, iPod touch 5g
iPad 2, iPad 3, iPad 4, 1ST generation iPad mini
Note: p0sixspwn jailbreaks all devices running iOS 6.1.3, 6.1.4 and 6.1.5. Before installing the p0sixspwn untethered jailbreak, make a backup of your iOS device.
How to install p0sixs0pwn 1.0.5 untethered jailbreak on devices running iOS 6.1.3-6.1.5
Step-1: Head over to http://p0sixspwn.com/
Step-2: Download p0sixspwn 1.0.5 for Mac/ Windows
Step-3: Once the download is completed, double click the zip file to unzip it. It will give you the tool
Step-4: Right-click on the p0sixspwn tool and click Open
Step-5: Plug in your selected device
Step-6: Disable the passcode
Step-7: Click Jailbreak and follow the on-screen instructions
You have successfully performed an untethered jailbreak of your iOS devices.
Must read: Evasi0n7 Untethered Jailbreak: Fix iOS 7 Safari/Mail/Weather Crash Issues