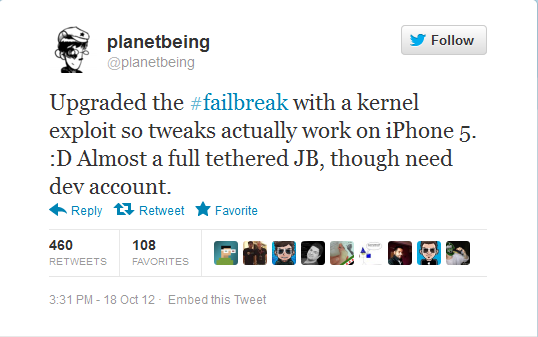 In the last few weeks, the jailbreak dream team has made rapid progress in developing a fully-functional tethered jailbreak for iOS 6. David Wang (a.k.a planetbeing) recently tweeted about his exploits with Cydia tweaks on his successfully jailbroken iPhone 5.
Paul Grant a.k.a Chpwn had earlier posted a screenshot on Twitter, depicting his glorious feat of jailbreaking iPhone 5 on the same day the phone was released.
Here are excerpts from planetbeing's recent twitter messages regarding the status of iOS 6 tethered jailbreak:
"Upgraded the #failbreak with a kernel exploit so tweaks actually work on iPhone 5. :D Almost a full tethered JB, though need dev account."
Planetbeing goes on to explain the need for using failbreak:
"These exploits are valuable for discovering new ones in the future, so it's nice to keep them and release only the good ones."
Earlier, planetbeing hinted about a couple of kernel exploits that could be the key for jailbreaking iOS 6 on all latest iOS devices including the iPhone 5.
"We still have a few tricks up our sleeves," Wang said, adding: "It's very engrossing. It's kind of like doing a very complicated Sudoku or a crossword but it's like 10 times harder. It's just entertaining to be able to use your brain in that way. It's really the only reason I do it."
As of now, it's not yet known if one among pod2g, musclenerd or planetbeing would first release a tethered or untethered jailbreak for iOS 6.
Check out some of the intriguing jailbreak user responses to planetbeing's latest tweet on the status of iOS 6 jailbreak (Twitter screenshot below):