The Evad3rs recently released the Evasi0n 1.0.1 update for their newest evasi0n7 jailbreak, which removed the controversial TaiG package, besides fixing a handful of bugs and issues found in its previous release (v1.0).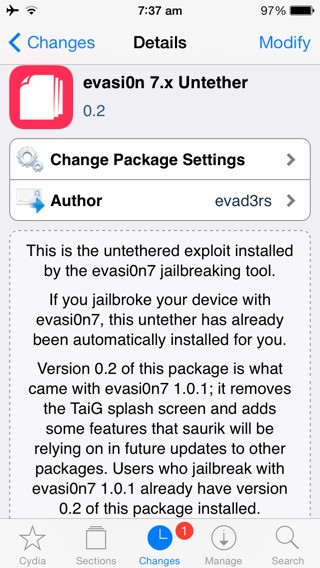 With the release of Evasi0n 7.x Untether 0.2 package, you no longer have to re-jailbreak your device with Evasi0n 1.0.1 update following a jailbreak with Evasi0n 1.0.0. In other words, the new untether package for Evasi0n7 will install like any regular update via Cydia's default Telesphoreo repo.
Here is the official changelog for the Evasi0n7.x Untether 0.2 package:
Removes the TaiG splash screen
Adds some features that Saurik will be relying on in future updates to other packages such as Mobile Substrate
Those who have already jailbroken their iOS 7 device with Evasi0n 1.0.1 can skip this update as it is pre-installed. However, iOS 7 jailbreakers who are using Evasi0n 1.0.0 should install the new Evasi0n 7.x untether update via Cydia to get the latest bug-fixes and improvements.The update is a free download from Cydia and installs without a reboot.
How to Install Evasi0n7.x Untether 0.2 Package via Cydia
To install this update, go to Changes tab in Cydia > tap Upgrade button > hit Confirm at the top right-corner or select evasi0n 7.x untether package from the list in the Changes tab, followed by Modify, Upgrade, and finally tap Confirm button.
For further assistance, check out the video tutorial below:
Must Read: Evasi0n7 1.0.1 Update Released: How to Jailbreak iOS 7 Untethered on iPhone, iPad, iPad mini and iPod Touch [VIDEO GUIDE]
[Source: iDownloadBlog]