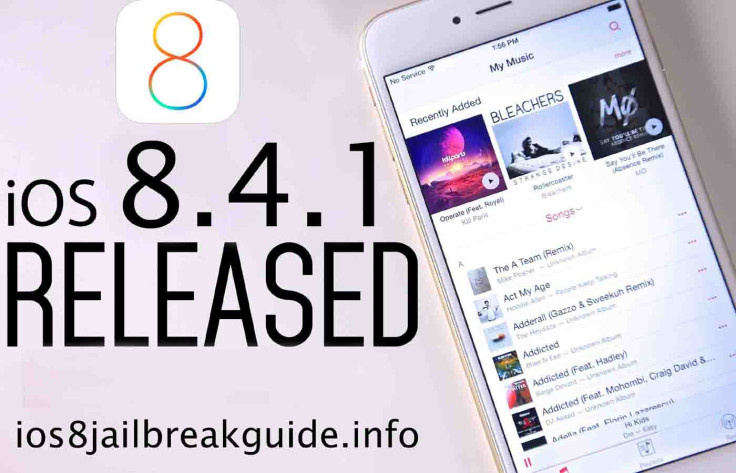 Apple recently patched up all known security exploits used in TaiG jailbreak for iOS 8.x.x via iOS 8.4.1 bug-fix update, as the jailbreak community faces a tough challenge of safeguarding existing jailbreak tweaks and apps, following the release of the new iOS update. Nevertheless, prospective iOS jailbreakers can follow some useful tips and tricks to safeguard their precious jailbreak tweaks and apps:
Avoid installing unwanted or untested jailbreak tweaks and apps
Prospective iOS 8 jailbreakers and those running iOS 8 on a jailbroken device are advised to avoid installing unwanted or untested jailbreak tweaks and apps, as a faulty app or tweak could damage the iOS software thereby forcing you to restore the device with the latest firmware (iOS 8.4.1). Consequently, you will lose all your favourite jailbreak tweaks and apps installed on the device. Hence it would be a wiser option to take an expert opinion on jailbreak forums such as reddit, before you download something new via Cydia Store.
Uninstall unused jailbreak tweaks
Some newer jailbreak tweaks are known to cause compatibility issues with the older ones, which are already installed on the device. Consequently, it is a good idea to uninstall or remove unused jailbreak tweaks from the device, as it will reduce the chances of running into compatibility issues.
Avoid modifying the File system
Any modifications to the file system such as deleting a file via iFile could inadvertently delete the core system files and forcing the user to restore the device. With iOS 8.4.1 not supporting any existing jailbreaks, one cannot risk losing one's jailbreak for the sake of tweaking a system file.
Save SHSH blobs
With the release of iOS 8.4.1, Apple has blocked the loophole that enabled users to save the SHSH blobs for the older iOS firmware that was still being signed. Consequently, you can no longer create (stitch) a pre-signed IPSW file using Redsn0w or use SHSH blobs to downgrade to an older version in newer devices like iPhone 4S or later.
The only exceptions include iPhone 4, iPhone 3GS and iPod Touch 4G, which can be restored to iOS 6.x or higher using saved SHSH blobs via TinyUmbrella. However, Semaphore (the creator of TinyUmbrella) has suggested that the SHSH blobs will return to action with iOS 8.4.1, with due credit to a new exploit unearthed by iH8sn0w (developer of Sn0wbreeze and Posixspwn jailbreak tools).
Do not update or restore
Avid iOS jailbreakers are advised to hold off upgrading their software to iOS 8.4.1, as it kills all known security exploits used in TaiG jailbreak rendering the jailbreak useless. Besides, users will lose all their cherished jailbreak tweaks and apps installed on iOS 8.4.
Not to mention, Apple has already stopped signing the iOS 8.4 firmware to discourage jailbreakers from downgrading back to iOS 8.4 from iOS 8.4.1.
Install Cydia Impactor
Cydia Impactor is a handy tool that enables avid jailbreakers to return their device to factory or stock firmware settings after removing the jailbreak, and without the need to restore or update it to latest iOS firmware, iOS 8.4.1. In other words, you can continue to remain on the previous iOS firmware (iOS 8.4) that still supports jailbreaking capability.
Installing OpenSSH for SemiRestore
SemiRestore brings the option to restore jailbroken iOS device to stock condition without losing jailbreak. This tool comes in handy to fix reboot loop issues by removing the faulty jailbreak tweak, during the restore process.
Just install the OpenSSH tool on your iOS jailbroken device in order to support SemiRestore (click to see tutorial) capability on it. Also, ensure that you change the root password of the device after installing OpenSSH to prevent unauthorised remote access to your iOS device.
How to recover from Reboot Loop issue
Users can easily recover from Reboot Loop issues on their jailbroken iOS device by using the Safe mode feature of mobile substrate. Check out our simple guide to recover from endless reboot loop issues, after installing a faulty jailbreak tweak.
[Source: iPhone Hacks]