iOS 6 Untethered Jailbreak Status: How to Prepare, List of Supported Devices and Release Date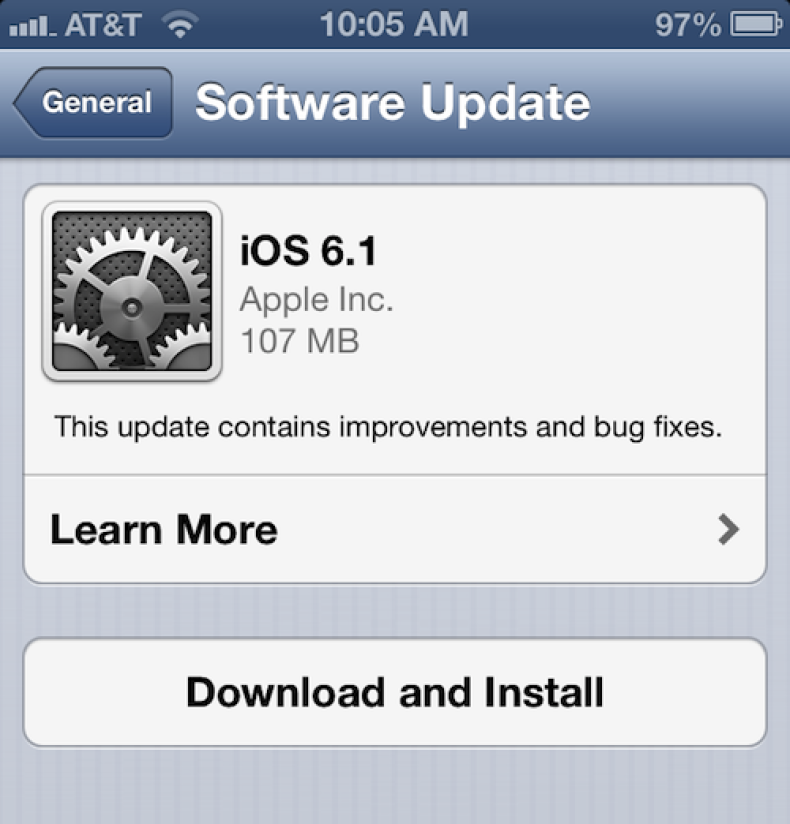 As expected, Apple has followed up its iOS 6.1 beta 5 release on Saturday with the final version of iOS 6.1 public release. The highly-anticipated iOS update has arrived nearly three months after the first beta release of iOS 6.1 to developers.
iOS 6.1 Features
The new update brings a plethora of exciting features onboard including more carrier support for LTE, enhanced Siri with the ability to purchase movie tickets through Fandango (USA only), access to download individual songs from iCloud for iTunes Match subscribers and a new button to reset the Advertising identifier.
Among other key features, iOS 6.1 offers Bluetooth keyboard compatibility for Apple TV for facilitating media searches via iTunes or YouTube. And as 9to5Mac reports, a new Map APIs for better app integration. Now, the most exciting prospect about the iOS 6.1 release is its impact on the impending jailbreak and how users need to prepare their supported devices for the most-anticipated jailbreak in a long time.
As iDownloadBlog notes, planetbeing in his recent Twitter update addressing the new iOS release, had this to say:
"iOS 6.1 appears to have been released! We are reviewing the publicly available version now."
Download
The public version of the iOS 6.1 release can now be downloaded from here.
Release Date
MuscleNerd, a prominent member of the team - evad3rs (which also comprises other leading iOS researchers and hackers - pimskeks, pod2g and planetbeing), had this to say while hinting at the possible release date for the impending iOS 6.1 jailbreak:

"Hey, did everyone know the Super Bowl is this Sunday? What will you be doing? /cc @evad3rs http://evad3rs.com".
As if to keep date with history, the impending untethered jailbreak for iOS 6 is expected to arrive on Sunday, 3 February (the same day as the Super Bowl), according to iDownloadBlog.
iOS 6 Untethered Jailbreak Status
Meanwhile, planetbeing, who is another key member of the new Dream Team - evad3rs, tweeted that a piece of the code found in iOS 6.1 is susceptible to the new exploits unearthed by them:

He further notes that the upcoming jailbreak would require two proof-of-concepts together with a lot of testing: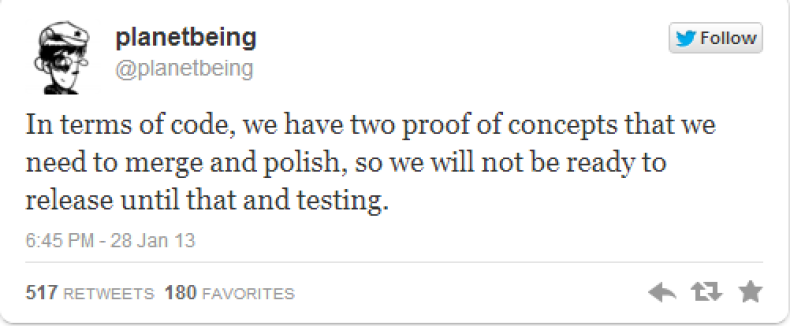 List of Supported Devices
In response to another unheralded iOS hacker (@unicornhacker), MuscleNerd had this to say: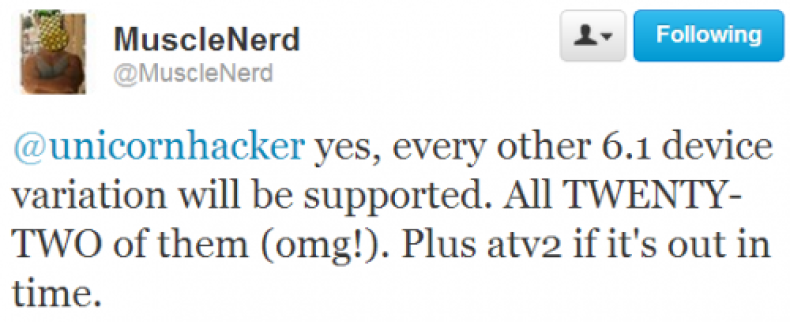 Here is the full list of devices eligible for the forthcoming iOS 6.1 untethered jailbreak:
iPhone 3GS
iPhone 4
iPad 2
iPod touch 4th generation
iPhone 4S
iPad 3
iPod touch 5th generation
iPhone 5
iPad mini
iPad 4
Apple TV 2
How to Prepare for the Impending iOS 6.1 Untethered Jailbreak
IBTimes UK is providing a step-by-step guide (courtesy of iDownloadBlog) to prepare iOS device for the highly-anticipated iOS 6.1 untethered jailbreak.
Step 1: Evaluate if the Device is Supported
To begin with, it is necessary to identify if the device is jailbreakable or compatible with the upcoming jailbreak. Check if the device appears in the list of supported devices (above). For more clarity, here is the list of unsupported devices:
iPhone 2G
iPhone 3G
iPod Touch 1G
iPod touch 2G
iPod touch 3G
iPad 1
Apple TV 3
Step 2: Backup Data on the Device
If the device is running on older firmware or if the device is not yet jailbroken, use iTunes or iCloud to backup data on the device. Verify that important data is safe and secure before proceeding with the jailbreak. Conversely, if it is a jailbroken device, use PkgBackup tool for data backup including Cydia tweaks and apps.
Step 3: Restore the Device Back to iOS 6.1
After the data backup procedure, go ahead and restore the device to iOS 6.1. Ideally, it is recommended to do a fresh and clean installation while preparing for a new jailbreak to avoid software conflicts. However, users who choose to do a simple upgrade may do so using iTunes Backup and Restore feature. Users are advised to avoid OTA delta upgrade via Settings > General > Software update or the direct software update on the iPhone to prevent known problems with jailbreaking on delta firmware.
Although the impending iOS 6 untethered jailbreak is likely to release on 3 February, jailbreakers across the globe may receive it a day earlier or later depending on their geographical location (as members of the team - evad3rs, are spread across different parts of the world).