The Evad3rs Dream Team has reportedly started investigating for unpatched exploits with iOS 7 Gold Master (GM) release, according to a recent tweet by Planetbeing. The tweet clearly implies that the Dream Team is actively working to unleash the highly-anticipated dual jailbreak for iOS 7 and iOS 6.1.3/6.1.4.
Here is what the veteran hacker, planetbeing, had to say in his recent Twitter message: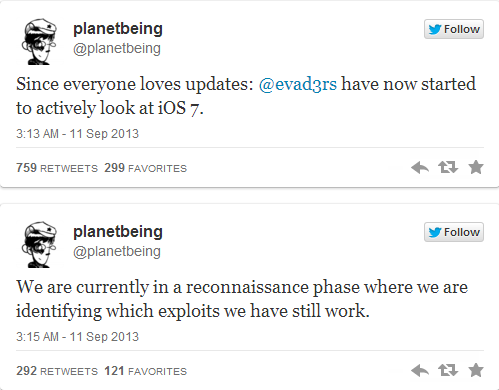 In other words, the evad3rs team comprising musclenerd, pod2g, pimskeks and planetbeing is involved in a reconnaissance phase to determine which exploits, if any, are still functional with iOS 7.
The iOS 7 GM release plays a prominent role in the development of next jailbreak, as it would be the same build that gets released publicly on 18 September unless developers find some major bugs that need a patch or new update. Consequently, the time is ripe for jailbreak developers to jump into action as no major changes will affect Gold Master release unlike the early phases of a beta-cycle.
Though the current iOS devices such as iPhone 5, iPhone 4S etc. may support a few known exploits in iOS 6.x.x through iOS 7, the advent of iPhone 5S poses a serious challenge with its new 64-bit processor upgrade, as the existing exploits may no longer work on it.
Given the uncertainty surrounding the estimated time of arrival (ETA) for the next jailbreak or even the possibility of releasing an iOS 7 jailbreak; planetbeing reportedly confirms that if once iOS 7 gets jailbroken, the same exploit holds good to jailbreak iOS 6.1.x releases as well.
ALSO READ: iOS 7 Gold Master: Install Without Registered UDID or Developer Account [GUIDE]