A number of purported iPad 3 part leaks have grabbed the headlines over the last few weeks, even as rumour mills gained momentum with support from the likes of Apple Insider, Wall Street Journal and many more high-profile news feeders promoting the exciting story.
Latest Update 3: 2048X1536 Resolution Retina Display Reconfirmed for iPad 3
The latest speculated reports from iFixit leaked video of the purported iPad 3 Retina display confirms the new component's pixel density to be precisely double that of Apple's current tablet line. In other words, the display offers twice the linear resolution and four times the total number of pixels as the iPad 2.
iFixit has said that the incompatible connector size of the new display had hampered their testing process on an iPad 2. One might recall from the earlier rumours that the iPad 2 display cable is slightly shorter with a sideways orientation.
Meanwhile, efforts to match the pins of the two displays (iPad 2 and iPad 3) in an effort to rig the iPad 3 display failed to materialise, owing to time constraints and lack of guaranteed success.
"Our efforts to plug it in - even partially, if possible - were unsuccessful," said iFixit.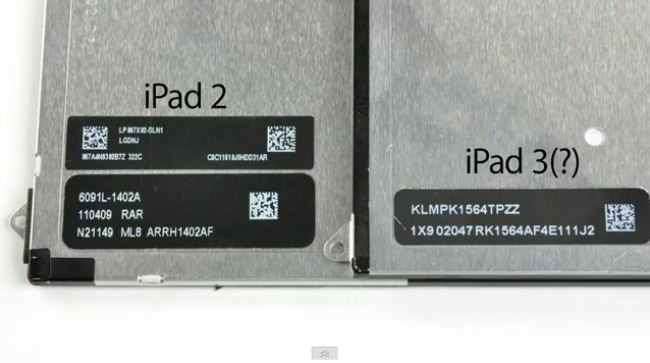 Despite the rig attempt failures, iFixit was least perturbed. The repair site went ahead with the display test using an USB microscope and found that the new display panel was indeed a higher pixel density panel than before. The test also confirmed a 2048x1536 resolution, which is twice that of the previous two iPad models.
Though both the displays resembled each other in their physical attire, the purported iPad 3 model was found to be 0.6 ounces lighter than that of the iPad 2.
Watch the inquisitive video below:
Courtesy: iFixit
Rumors abounding Apple incorporating higher resolution display (almost doubling the number of pixels in each direction of the screen) to its third generation iPad have been circulating for quite some time now. However, recent reports from highly placed sources like Bloomberg and The Wall Street Journal have also supported the rumour.
Confirmed Features
Apple is expected to release the iPad 3 in a media event on March 7, around the same time that it introduced the iPad 2 last year. Rumours surrounding the device have been confirmed to have a number of key features, including a powerful quad-core A5X processor, 4G LTE networking and enhanced 8 megapixel camera.
Must Read: iPad 3 Launch Rumour: Will Apple's Retail Store Launch at Harrods in London Delay the Tablet?
Must Read: iPad 3 (iPad 2S or iPad 4?) Rumour Roundup: Release Dates, Expected Features and Latest Updates