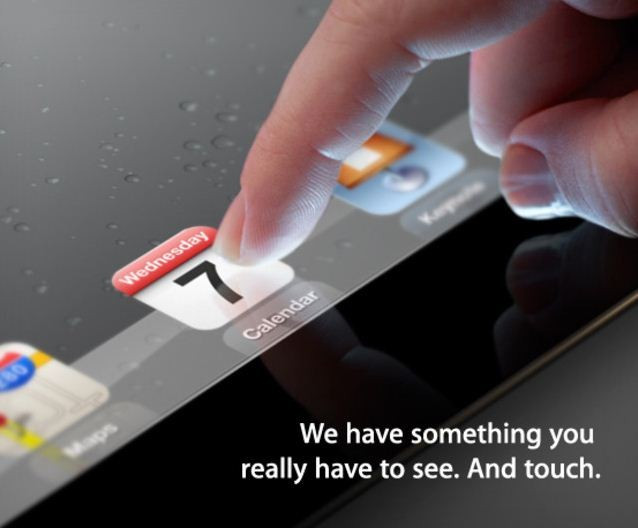 There are only four days left for what is expected to be the release of Apple's next-generation tablet - the popularly named iPad 3... and the rumour mills are spinning faster than ever, with expected features and leaked specs hogging the limelight.
iOS Upgrade Rumours
Apple's most current operating system (iOS 5.1) is fading away over time and, as it does, the rumours surrounding its upgrade (iOS 6) are becoming more popular.
Although the word is that the upgrade is, in fact, in the pipeline, there is no confirmation about its public release.
However, if server log entries from Apple's campus (from Ars Technica) are accurate, then they reveal iPads running iOS 6.0 as being recorded. There are also reports from Ars Technica that confirm the browser user agent strings of iPads running iOS 6.0 are indeed showing in their server logs.
A report in MacRumours added that while user agent strings are easily faked, Ars Technica filtered its logs to isolate only those entries coming from IPs assigned to Apple's corporate facilities and found a number of visits from devices reporting themselves as iPads and running iOS 6.
So, if there is any truth to these, then the release date of the iOS 6.0 could be just around the corner.
"[W]e began looking at iPad user agents coming from Apple's corporate IP block in Cupertino and discovered that Apple appears to be surfing the Web using iPads running what looks like iOS 6.0. The whole listing shows iPads running iOS 5, iOS 5.0.1 (the current public release), iOS 5.1 (the upcoming release currently available to developers), and iOS 6. The iPads that appear to be running iOS 6 are also using a slightly newer build of WebKit-the older OSes all show WebKit 534.46, while the ones claiming to be iOS 6 show WebKit build 535.8," cites the report from Ars Technica.
iPad Mini in Third Quarter of 2012?
There are fresh rumours suggesting a 7.85-inch iPad Mini will be released in the third quarter of 2012, according to DigiTimes. The latest reports claim Apple's manufacturing partners have been delivering samples of the device to Apple, ahead of mass production, which should start in the third quarter of this year, at the earliest.
The proposed iPad Mini is expected to be priced in the range of $249 - $299, while the rumuored 8GB iPad 2 is projected to a price point of $349-$399. Meanwhile, the 16GB iPad 2 is priced at $449 to cater to the low-end segments.
Retina Display Part Supply Constraints
There are also reports that the company is running low on supply parts for the rumoured iPad 3's display parts, largely because of slow production rates, according to DigiTimes. This could actually cripple Apple's supply chain post the iPad 3 launch.
"Apple may be unable to ramp up the supply of its next-generation iPads (iPad 3), which are expected to be launched at a company event on March 7, due to insufficient supply of high resolution displays, according to industry sources in the supply chain. Although Apple has chosen Sharp to replace Chimei Innolux (CMI) as one of its three suppliers for the high resolution (QXGA) panels - in addition to LG Display and Samsung Electronics, the whole supply chain has failed to substantially ramp up the supply of QXGA panels," the sources reveal.
We do know that there will be some event and maybe some product launch on 7 March, the expected 16 March release date could in danger if constraints over parts supply start causing trouble.
16GB and 32GB iPad 3 to be Accompanied by 8GB iPad 2?
In addition, there are reports from DigiTimes that an 8GB iPad 2 will accompany the release of the 16GB and 32GB iPad 3 on 7 March. It is believed Apple will try to exploit the budget-conscious buyer with an 8GB model while shelving the 16 and 32GB models to make way for the iPad 3.
However, there is no mention of a 64GB or 128GB model for the year. Despite Apple's attempt at encouraging use of its iCloud service, its decision to scale down the maximum available storage capacity to 32GB with iPad 3 is quite baffling.
This is particularly considering that both the iPad and the iPad 2 boasted 64GB as their high-end model. The other debatable point is crippling storage constraints for saving downloaded content on-demand over iCloud.
"As Apple has scheduled an event on March 7, sources from its upstream supply chain pointed out that the company is expected to launch two iPad 3 models - a 16GB version and 32GB version. In addition to iPad 3, Apple is also expected to unveil an 8GB iPad 2, allowing the tablet PC series to cover different segments and to defend against Windows 8-based tablet PCs," cited a DigiTimes report.
Besides, a shift to two models contradicts with the part numbers of the new device - iPad 3. The part numbers attribute to Good/Better/Best versions for the next-gen tablet, which correspond to three different capacities.
Price and Memory Capacities for iPad 3
Amidst all the rumours about the pricing of the iPad 3, a supposedly reliable source called Mr X, quoted in a 9to5Mac article, has suggested the new product will carry the same price as the iPad 2. This is contrary to earlier rumours saying the iPad 3 could be priced marginally higher than its predecessor.
If the latter rumours are untrue, DigiTimes has a valid point - Apple's bid to make the next-gen tablet more affordable to the masses. In other words, the company could launch low-capacity storage models and follow that up with the iPad 3 and then the iPad 4, coming in 64 and 128GB variants.
Release Date Rumours:
The release of the expected iPad 3, in the UK, according to earlier rumours was Friday, 16 March. This would have coincided with the grand opening of Apple's rumoured retail store in Houston, according to the Houston Chronicle.
A MacRumour report also confirms that the Cupertino-based company's forthcoming Highland Village retail store will open on 16 March, contrary to earlier speculations. In any case, our earlier expectations of the tablet's launch date coinciding with Apple's retail store opening at Houston remains true, which is great news for the aspiring iPad fans in US.
The Highland Village store is to be based on a prototype design from the company's Upper West Side store in Manhattan. Similar designs are expected for the stores at Santa Monica and Palo Alto. Featuring an all-glass roof and entrance (at the front and rear), the Highland Village store will be the first of Houston's seven Apple retail stores to be placed outside of a shopping mall.
Meanwhile, leaked photos of ongoing banner work at the Yerba Buena Centre for the Arts in San Francisco in preparation for Apple's iPad 3 media event on 7 March have been doing the round on the Internet. The photos have reportedly been released by Read It Later developer Steve Streza to MacStories.
In keeping with tradition, the company has retained exterior glass walls, with panels creating a large banner image. The banners are found to resemble the graphics depictions found on the event invitations, with a large white Apple logo in the middle of what appears to be a vibrant splash of paint.
Must Read:
iPad 3 Launch Rumour: Will Apple's Retail Store Launch at Harrods in London Delay the Tablet?