Queuing up overnight for the latest smartphone, tablet or video game used to be reserved for the die-hard, the passionate and perhaps the slightly mad, but with the iPhone 5 something is different - now, charities and consumer research companies are there instead.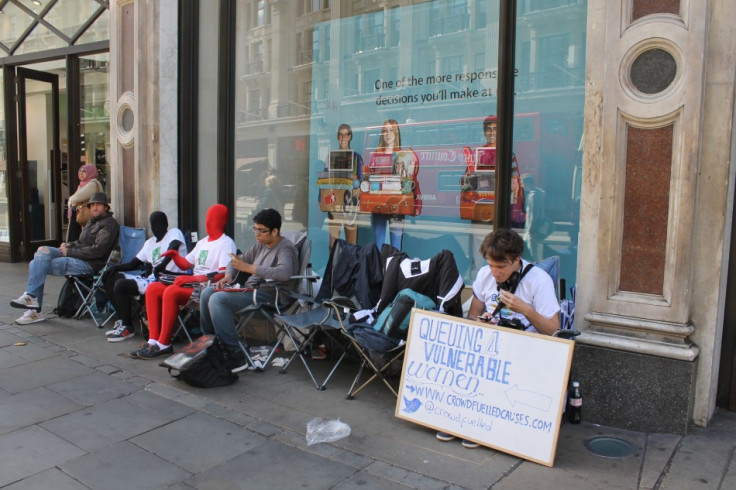 IBTimes UK headed to Apple's flagship Covent Garden and Regent Street stores in London in search for Britain's biggest iPhone fan, but what we found were queuers promoting charitable causes, followed closely by two morphsuit-wearing 18-year-olds taking part in a customer experience experiment.
Patrick Mella and Cameron Newton, both 18 and from north London, are fifth and sixth in the Regent Street queue for the iPhone 5, but despite cheering with the loyal Apple fans and clearly enjoying their week in a soggy camping chair, neither will be buying the new smartphone when it goes on sale.
"If I'm honest, I don't really want the phone," Mella told us, adding that he was waiting until he can get the iPhone 5 through a family member at a later date, while his friend Newton said he was happy with his BlackBerry Torch.
Instead of queuing to buy the iPhone 5, the two men are being sponsored by a research consultancy that is using their week-long experience and a video diary to research why the Apple brand attracts so much attention from fans.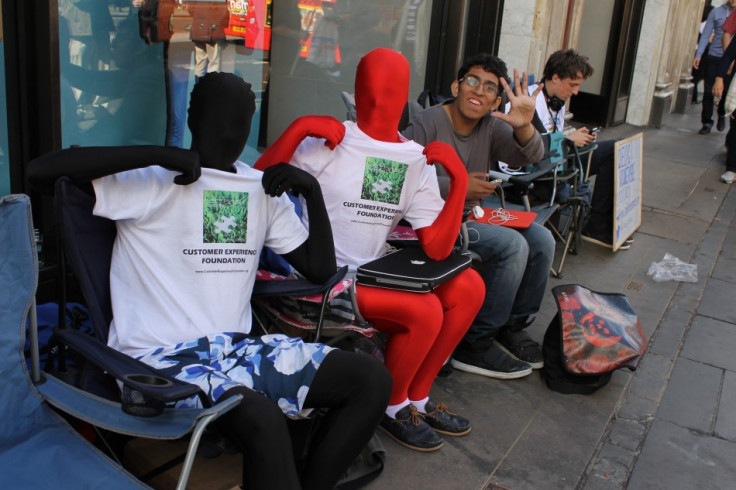 Newton said the company "is investigating and looking at how they [Apple] make it a community and the key question they are asking is 'why Apple?' and 'why aren't people queuing up outside Samsung?' And they are helping other businesses become more like Apple."
The two men revealed to us that a contract between them and the company means that they must wear a body- and face-covering morphsuit for several hours per day and whenever they are being filmed or photographed by the press. The pair refused to be photographed by us without their masks in place.
The reason they are queueing for the iPhone 5 is money; not only are they being sponsored for their time in the queue and provided with promotional t-shirts to wear, but they are also being paid for it.
Despite being "less than the cost of an iPhone 5," the pair refused to say how much they were being paid.
Charity and social enterprise - but still no iPhone buyers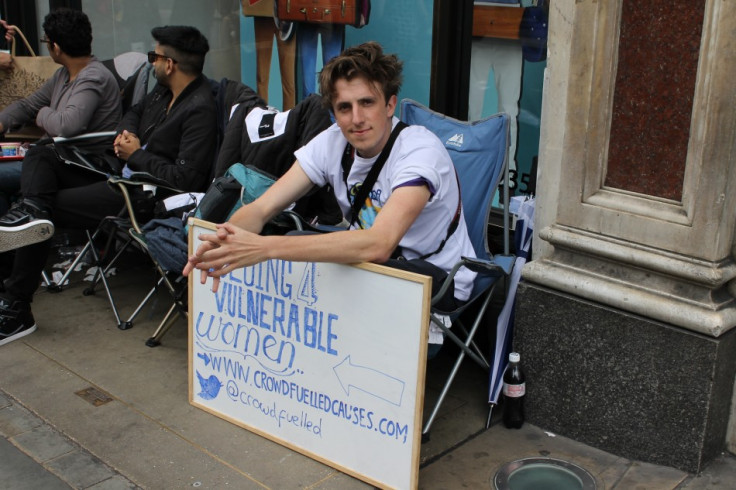 Ahead of the pair in morphsuits and at the front of the queue are Richard Wheatcroft and George Horne, a couple of friends who are in the queue to promote their social enterprise CrowdFuelled.
CrowdFuelled is raising money to hopefully open a bakery where women who have been abused, assaulted or who are victims of trafficking and the sex trade can work, socialise and get back on their feet.
IBTimes UK spoke with Horne, who is photographing and filming their experience that began a full eight days before the iPhone 5 is due to go on sale.
"We chose Regent Street because it is officially the flagship Apple store and you get a lot more footfall here, Covent Garden is a bit tucked away and sheltered. Here we've had people passing by who want to help us and businesses who want to sponsor us - we wouldn't have had these opportunities in Covent Garden," Horne said.
Talking about the Apple fans queuing to simply buy the phone - who were yet to show up - Horne said: "There are people who have an obsession with Apple products, but I don't share that obsession to be honest, I'm just here to help abused women.
"We're going to sell our seats. So we'll soak up all the marketing then, at the last minute, swop seats, get the money and they [whoever buys the seat] will go in, and hopefully it'll all work out."
Horne owns an iPhone 4 currently, but admits that it has seen better days, adding: "I think once I leave the Apple store I might just pop into Carphone Warehouse and buy something cheap, like a Nokia or something."
Charity at Covent Garden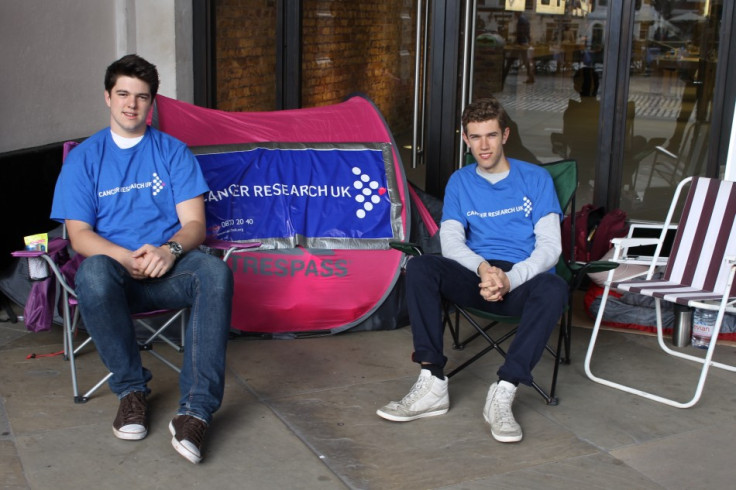 Ryan Williams, 22 and Peter King, 19, jointly own an IT company, but they have taken the week off to queue for an iPhone 5, which they plan to sell in aid of Cancer Research.
The duo have already raised more than £220 through the JustGiving website and the iPhone that they will buy is currently going for £350 on eBay with more than two days still to go.
King told IBTimes UK: "I've done the generic money raising runs and that kind of thing and we thought this would be a new and totally unique thing to do.
"We are buying one iPhone, which is already on eBay at the moment and the phone is sponsored now, so someone is paying for the iPhone 5 and all of the proceeds from selling the phone are going to charity, and we've got a JustGiving page that has raised loads of money already.
"I think we could get a couple of thousand pounds altogether."
His colleague and friend Williams told us: "The longest I've queued for is 12 hours for an iPhone 4S at a local O2 store, but then I had the crazy idea that we should do this.
"Apple really like it and the security guys are really friendly. Our friends love it. Everyone is really supportive and bring us food and drink, people come and buy us lunch."
Williams said that he would love to buy the new iPhone for himself, but said that the move would contradict what he is looking to achieve.
A second iPhone 5 will be bought, however, for an unnamed man who bought the pair a tent, inflatable blanket, pillows and a whiteboard on which they have explained what they are doing.
The iPhone 5 goes on sale at 8am on 21 September, and while the queues so far are taken up by people seemingly not interested in buying the phone, the theme of charities using Apple queues is something that we think is set to continue - and from what we were told, the Apple Store managers are happy with everyone we interviewed staying for the duration.