A popular Christmas stocking-filler from parents and lazy friends alike is always the iTunes gift voucher, letting the recipient purchase whatever they want from iTunes, the Apple AppStore and the iBookstore.
At the IBTimes we've compiled a list of the top five iOS games to download on Christmas day morning.
Angry Birds Rio - 69p
Yes, it's predictable to have the bird-flinging, pig-destroying game in our list, but no one can argue that the Angry Birds franchise has taken the gaming world by storm after being downloaded a staggering 500 million times.
The latest game in the series is 'Angry Birds Rio', named after the animated film 'Rio', and six worlds, each with 30 levels to test and frustrate you in equal measures. There's not much more to say about Angry Birds that hasn't already been said; it's fun, simple, highly addictive and, in later levels, challenging. For 69p, Rio is in this top five for good reason.
Real Racing 2 - £1.99
The original Real Racing took the Apple AppStore by storm when it was introduced, and Real Racing 2 brought even more to the party, with licensed cars from the likes of Ford, Nissan and McLaren. Boasting over 10 hours of gameplay, RR2 includes a massive career mode with time trials, head-to-head races, eliminations, cup races, qualifiers and championships.
There are 15 tracks offering over 40 miles of highly-detailed raceway that you can race on with up to 16 players online and up to eight friends locally over Wi-Fi.
Every car feels different, the AI is surprisingly intelligent for a smartphone game and driving assists can be turned on or off to tune the difficult to your personal level.
Cut The Rope - 69p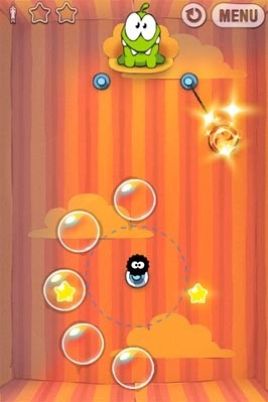 Following the tried and tested recipe of making a cut-looking, fun and simple game, Cut The Rope requires puzzle-solving skills to guide food into the mouth of a frog. Food is suspended by elastic ropes which can be cut, blow with fans and dragged around until it drops into the frog's mouth.
Cut The Rope offers nine different worlds, each with 25 levels meaning hours of frustrating but rewarding fun.
FIFA 12 - £1.99 (limited time only)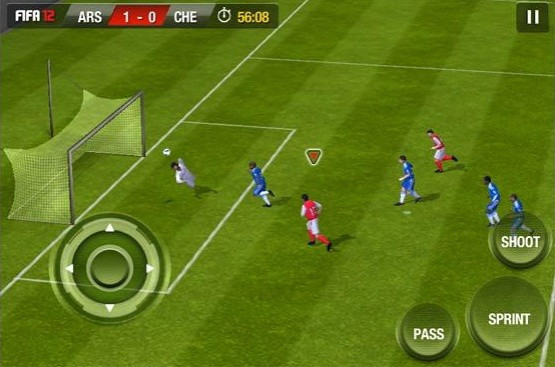 FIFA has been on the iOS platform for iPhone and iPad for a couple of years, but FIFA 12 takes the franchise - and feature games as a whole - into a new league. Featuring vibrant graphics, realistic animations and a control system that works surprisingly well for a small touchscreen, FIFA 12 for iOS is a genuinely great game.
Packing 22 officially licensed leagues, 500 teams and more than 15,000 players that can play in 32 authentic stadiums, FIFA 12 is a fully-fledged game with no corners cut to bring the game onto a mobile platform.
One thing to watch out for, is that FIFA is a huge game - weighing in at over a gigabyte - so make sure you're iPhone isn't too full of Christmas songs and photos of the burnt turkey before you download it.
Doodle Jump - 69p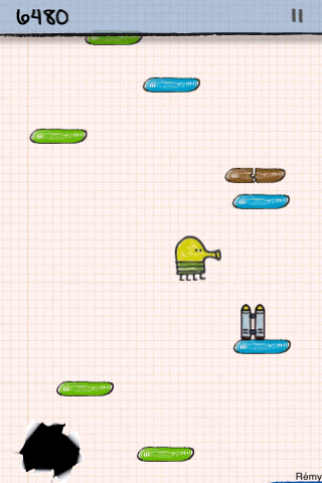 Although games like Fifa 12 show us how very capable the iPhone is with playing quality games, there's nothing we like more than a simple, honest game that takes just a few second to play. At the IBTimes we rate Doodle Jump as one of the very best games to play as a quick distraction. If you're on the bus or waiting to meet a friend, these kind of quick and simple games rank very highly in our office.
Simply tilt the iPhone right and left to control the character as it jumps up a piece of virtual graph paper, dodgy aliens and using jetpacks to aide his ascent. As with most games like this, it starts easy then gets frustratingly difficult, but being able to compare scores with friends through Game centre keeps it fun for ages.
By our calculations, this top five will set you back £6.05 of your shiny new gift card, hopefully leaving plenty left over for more apps, games, songs and movies.