Alongside its existing facial-recognition technology, Apple has patented a new "auto-recognition for noteworthy objects" which can be used to tag famous landmarks and the faces of celebrities.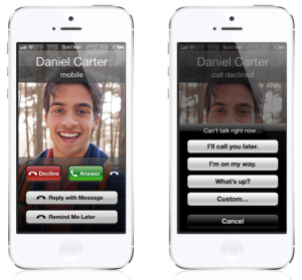 By accessing photographs already stored on your iPhone, or by searching pictures in the Cloud, the new technology can match faceprints with the original image, pairing your photograph of Big Ben with one that already exists in the Cloud.
Although the patent is geared toward better facial-recognition, it also explains that it can be used to identify "iconic images."
As the patent filing explains:
"In order to automatically recognise a person's face that is detected in a digital image, facial detection/recognition software generates a set of features or a feature vector (referred to as a "faceprint") that indicate characteristics of the person's face. The generated faceprint is then compared to other faceprints to determine whether the generated faceprint matches (or is similar enough to) one or more of the other faceprints. If so, then the facial detection/recognition software determines that the person corresponding to the generated faceprint is likely to be the same person that corresponds to the "matched" faceprint(s)."
The patent will also store metadata to help it analyse different pictures of the same person. The example given in the filing describes how several pictures of musician Paul McCartney, taken from varying decades when his face looked much different, can still be group together under the same nametag.
It means that hastily taken snaps of passing celebrities will still be able to match up with the local or remote database of pictures.
Apple has also filed a second new patent that will improve the caller waiting system on the iPhone. With iOS 6, users are able to send an automated message to the caller explaining why they're unavailable to talk. But the new patent builds on that by letting users send voice messages to people that they have on hold. It will also be able to access Calendar data, to tailor a response to somebody calling who you are scheduled to be meeting. As well as that, the patent uses GPS to tell if you are driving, and if so, automatically relays that are you are to the incoming caller.