Apple iPhones Outsell Android Smartphones at AT&T Corporate Retail Stores in December: Report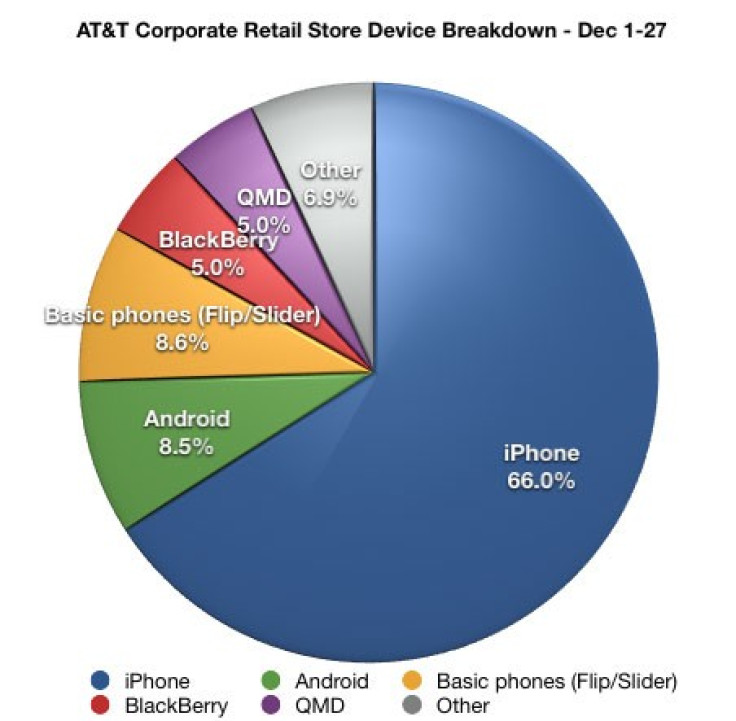 The Apple Inc. iPhone reportedly outsold Android devices at AT&T corporate retail stores by a whopping 7.8-to-1 ratio between Dec. 1 and Dec. 27.
According to The Mac Observer, those AT&T stores sold about 981,000 iPhones during the period, accounting for a heavy 66 percent of the turnover. By comparison, the same stores sold about 126,000 Android devices over the period, accounting for a light 8.5 percent of the turnover. The report noted that even basic flip and slider phones did better than the Android devices, as the same stores sold about 128,000 of those dinosaurs.
Research In Motion Ltd. -- makers of the BlackBerry line of smartphones -- finished third in sales, as AT&T moved only about 74,000 of them. Microsoft Windows Phone 7 phones reportedly did even worse.
However, it should be emphasized The Mac Observer report is limited to AT&T corporate retail stores. Accordingly, it excludes authorized reseller sales, online sales, telephone sales, and other consumer retail outlet sales, as well as sales made through Apple itself. In addition, Apple's sales boost could be partially attributed to the Christmas season and a year-end shopping spree. Consequently, the company could experience a drop in these kinds of sales after the festive season.
It is no secret that AT&T has been the dominant carrier for the iPhone for a considerable time now. Meanwhile, Verizon has been the flagship carrier for Android devices; a fact backed by sales statistics at Big Red.
Around the world, Android devices have been outselling iPhone by a 2-to-1 ratio, according to the relevant quarterly surveys.
Given Android software maker Google Inc.'s acquisition of Motorola Mobility -- and its patent battles with Apple -- it appears the war between the two corporate giants is likely to continue.
© Copyright IBTimes 2023. All rights reserved.