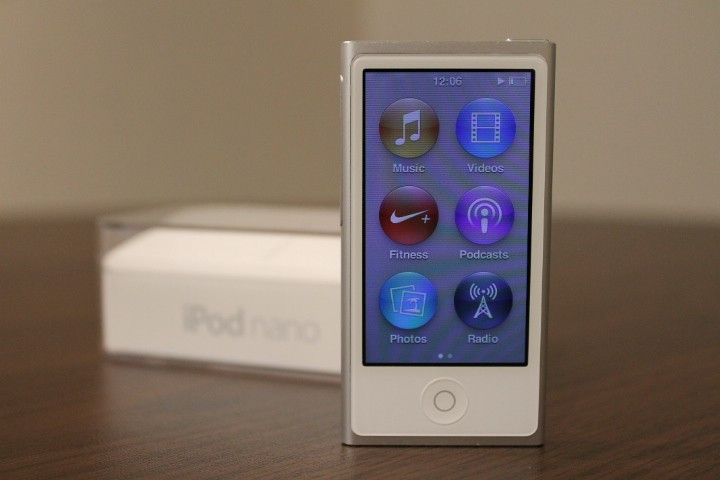 Key Features:
2.5in touchscreen
16GB storage
iOS-themed interface
Available in seven colours
Price: £129 for 16GB
Introduction
Another year, another radically redesigned iPod nano. It seems that Apple is more than comfortable of mixing things up with the nano every year, and 2012 is no exception with the seventh generation of the company's second-smallest music player.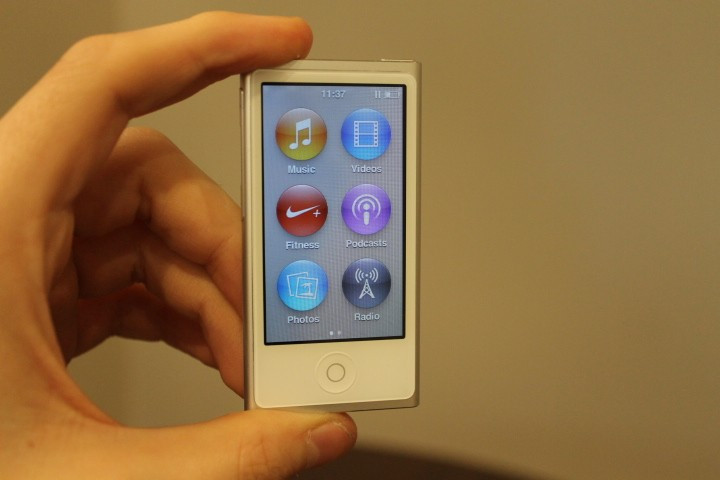 Stretching the last iPod nano upwards to create a 2.5in widescreen touch display and adding an iPhone-style Home button, Apple has turned the nano into something that looks like a tiny iPod touch with an iOS-inspired interface. At £129 for the one-and-only 16GB model, is the iPod nano still the must-have mid-range music player? Let's find out.
iPod nano: Design and Feel
As we said in the intro, Apple has taken the square touch screen iPod nano from last year and stretched it into a device with a elongated 2.5in display and iPhone-style Home button.
Continuing the iPhone and iPod touch similarities, the new nano gets a power/screen lock button on the top right corner, a volume rocker on the left - with integrated play/pause button - and the bottom edge is home to a headphone jack and Lightning connector.
We think our silver review unit looks great, and we like how the upper and lower edges are machined in the same was as the iPhone 5's edges to give a mirrored finish - although be warned, after a week of use several tiny chips have appeared along these edges.
The 2.5in screen has a white border on all models, despite which colour for the aluminium sides and back you chose (apart from the all-black model), and they all have a plastic Bluetooth antenna on the back.
A single piece of glass covers the screen and border, and it sits slightly proud of the aluminium chassis.
At 5.4mm thick, the new nano feels incredibly small and can of course be used easily in one hand, while the screen is as bright, sharp and responsive as you would expect from a full-sized iOS device.
Finally, the seventh generation iPod nano measures 75.5mm tall, 39.6mm wide and weighs 31g.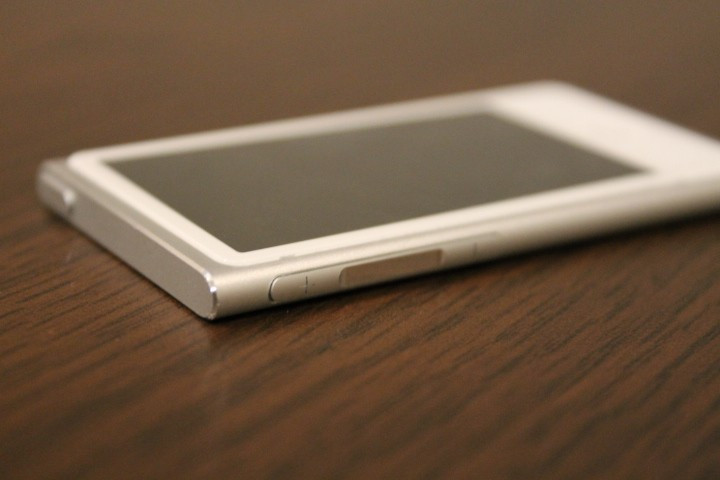 iPod nano: Display
At 2.5in, you're probably not going to watch a two-hour film on the new nano, but Apple has given the device video playback, if that's what you want.
The screen is as sharp as you'd realistically need a MP3 player's screen to be, and while not being close to the Retina screens of the iPhone and iPad, Apple has used a display here that does its job and leaves you asking for little more.
Having said that, the viewing angle could be better and if Apple keeps the same size screen for the eighth generation, then you can expect that to feature an increased resolution.
Our only complaint would be that there is a bit of bleed from the screen backlighting at the top, although this can only be seen from certain, off-centre angles.
iPod nano: Operating System and Performance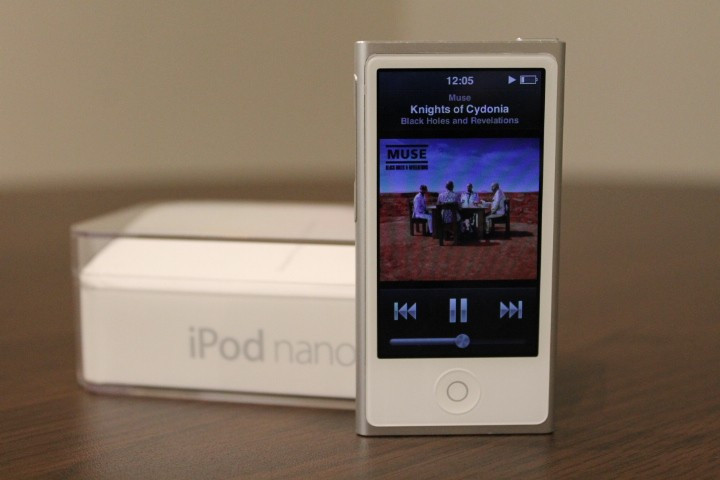 Simplicity has always been the name of the game for the iPod. That, and loads of storage space; the new nano gets 16GB (enough for around 4,000 songs) and the ability to playback video and podcasts, show images, and there's an FM radio tuner.
First off though, a rant; not at the iPod nano specifically, but at any media device like it that doesn't have a Wi-Fi connection.
Giving the new nano an iOS-inspired interface is great - it's familiar and very easy to use - but setting up our nano (right after the new iPod touch) made us instinctively want to sign into our iTunes Store account and download some playlists - just as we'd done with the touch minutes earlier.
Sadly, the new nano, like all previous iterations, doesn't feature Wi-Fi, so you have to resort to plugging in the USB to Lightning cable, booting up iTunes and syncing all of your content manually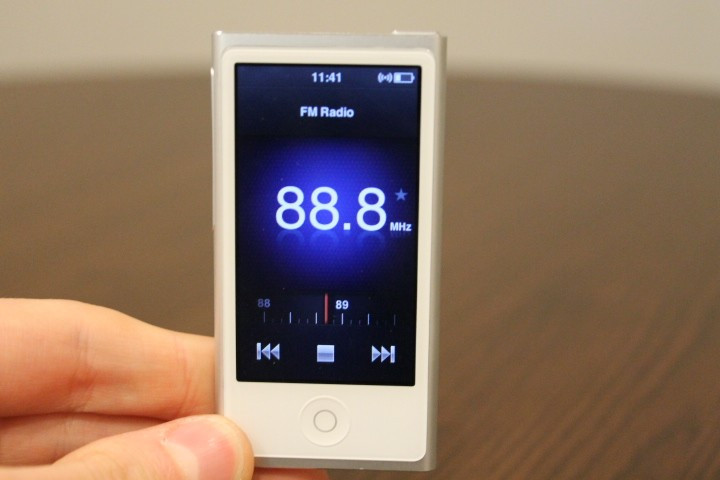 We don't want this anymore. The display is big enough to have an iPhone-style Home screen and menus, so why can't we have a really simple way to log into iTunes and grab our music off iCloud? In landscape the screen is large enough to type on (if a keyboard were available) so we don't see why this couldn't happen.
Living in a post-PC world (as Apple is forever reminding us) means leaving cables in the drawer and connecting all of our devices to the Cloud - hopefully the next nano will get Wi-Fi and access to iCloud, then it'll be a truly great device.
However, the seventh generation nano does everything you would expect with it's iOS-style interface. App icons are round instead of square, but flicking through Home screens is the same as we're all use to, as is using the Home button (or swipe from left to right to go back a page) and a long press on any icon lets you rearrange them.
Along with music, video, podcast and image playback, there is the Nike fitness app to log your walks and runs, an FM radio tuner and finally a clock app which has a world clock, timer and stopwatch - all of which are very similar to those on full-size iOS devices.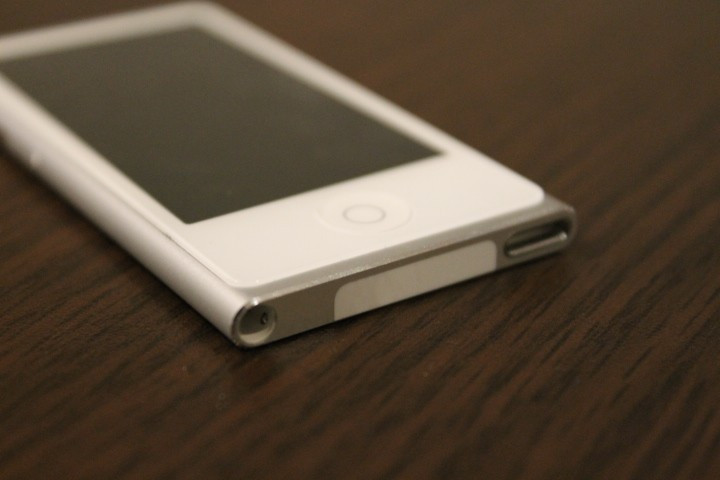 The wallpaper of the nano can be changed, but inexplicably Apple has included just five to chose from, and they all match the outer colour of the nano - so our silver review sample has three grey patterns, one plain light grey and plain dark grey as the five options.
Apple's iPod TV advert is all about colour, so we're a bit puzzled as to why we can't pick a more colourful wallpaper.
Music playback, as you would expect, is as good as any iPod or iOS device, and the scaled down music app looks every bit as good as it does on the iPhone and iPod touch.
There's no CoverFlow when you turn the nano on its side, but otherwise it's exactly as you would expect, and although we found audio levels to be low when listening to the FM radio app, this depends heavily on reception quality.
Videos look decent enough, but surely no one would actually use the 2.5in screen for watching films of TV programmes on? It's there if you absolutely want to, but you may well need glasses after watching a feature-length film on the nano.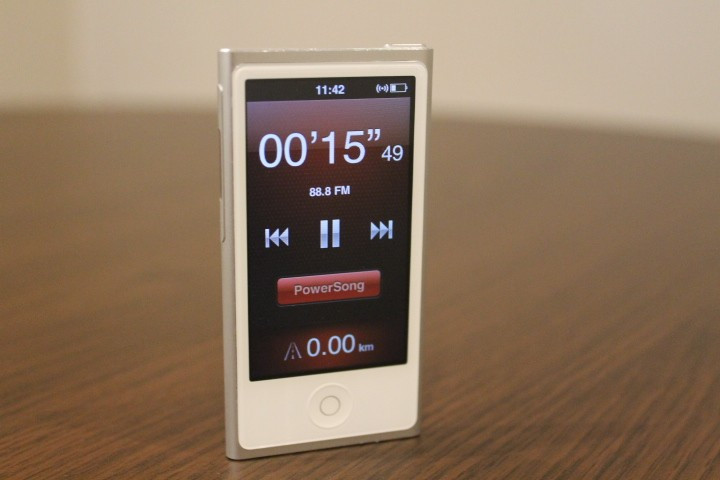 Photos can be zoomed in on with a double-tap or two-finger pinching - but again, viewing them on such a small device is little more than a gimmick.
The iPod nano is, of course, for music and podcasts, and that's what it does best, although the familiarity of the iOS-style interface makes us slightly impatient when the iPod doesn't react iPhone-fast to our inputs - hardly a deal-breaker, though.
Finally, Apple quotes up to 30 hours of music playback and 3.5 hours of video from the nano, and after a week with the device we would be inclined to agree
iPod nano: EarPods
The white headphones Apple bundles with its iPhones and iPods may well be iconic - remember those old iPod TV adverts? - but when it came to sound quality they left much to be desired.
Weak bass, a generic fit that was uncomfortable after time and chronic sound leak that meant whatever you listened to could be heard by everyone nearby, added up to a poor pair of headphones.
Apple realised this, and has introduced the EarPods. Bundled with the iPhone 5, iPod touch and new nano (they also sell for £25 on their own), the EarPods are shaped to fit more comfortably in your ears and offer better sound.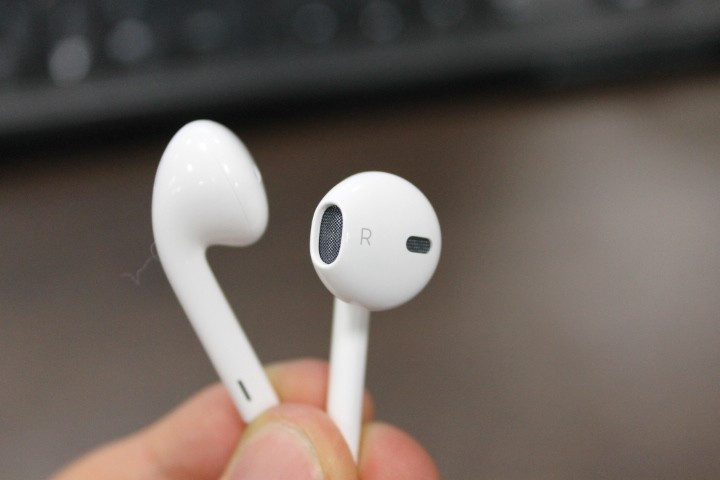 The unique shape is designed to fit more snugly and to direct the sound more accurately into your ear, resulting in improved sound and less leaking.
In testing we found these claims to be mostly true; the EarPods are more comfortable than the old Apple headphones, although of course your mileage may vary - just because we found them to fit better doesn't mean they will be a perfect fit for everyone.
As for the sound they produce, there is definitely more bass - but not to the extent that it becomes overwhelming - and the wide range of music we tested the EarPods with sounded warmer and more rounded than the tinny and abrasive sound of the old headphones.
Strangely, the EarPods bundled with the new iPod touch and nano do not have any buttons or a mic, as the ones with the iPhone 5 do.
We can understand them not having a mic, but why Apple has chosen to not include the play/pause and volume buttons is baffling; the nano has volume buttons on its side, with a play button between them, but we would have preferred to see buttons on the EarPods.
Just to note, we found the buttons on our B&W P3 headphones to work with the nano just fine, so we suspect other headphones with iPod/iPhone buttons will work with the nano as well.
There's no doubt that Apple has improved its bundled headphones, but they are still by no means a great product and, while they are acceptable when included with the iPod, we wouldn't recommend buying them for £25.
iPod nano: Verdict
The seventh generation iPod nano is about as good as an MP3 player can get. It's small without being difficult to use like the previous generation. The interface is just like a slimmed-down iOS, which makes it instantly recognisable, familiar and easy to use - if very occasionally slower than we'd have liked - and battery performance is good.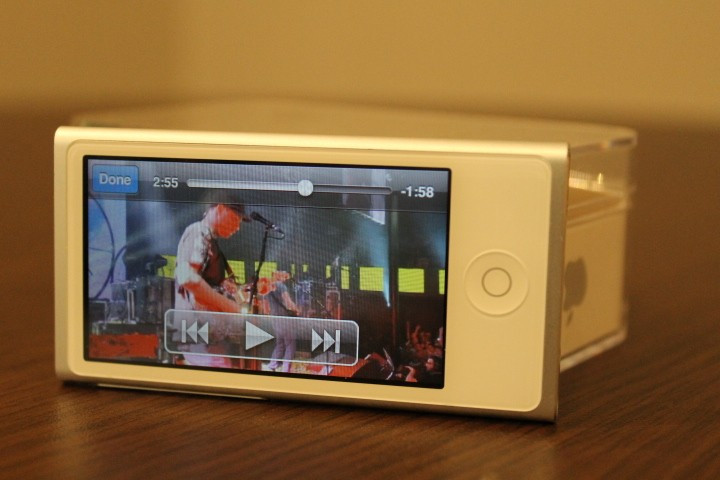 The nano is screaming out for a Wi-Fi connection to make music transfers easier and the screen - while small - could do with its own section of the App Store, and we wouldn't be surprised to see both of these in the next update.
As small MP3 players go, we're struggling to come up with a convincing alternative to the seventh generation iPod nano, and the screen alone makes this nano a strong update from the last model.
At £129, the nano is just £40 cheaper than the 16GB iPod touch, and while the touch at that price is a year old, it's a huge step up in terms of performance, screen size, and of course it has Wi-Fi for easy iTunes syncing.
But, if the touch is too big for your needs, or you already have a smartphone to run apps and watch video on, the iPod nano is very good indeed.
Scores:
Design and Build Quality: 9/10
Display: 8/10
Software: 8/10
Performance: 8/10
Overall: 8/10
The Good:
Great design
Perfect size
Built-in Nike+ app
The Bad:
Prone to scratches and chips, like iPhone 5
Needs to go wireless with Wi-Fi iTunes sync
Not responsive as proper iOS
Bluetooth antenna is ugly