An Iranian Nobel peace prize laureate has said run-off parliamentary elections currently being held in her country bring little hope for change even if a bloc of reformists and moderates were to win a majority. Shirin Ebadi, a human rights advocate and former judge now living in exile, said whatever the outcome Supreme Leader Ayatollah Ali Khamenei will remain the sole figure shaping Iran's future while scuppering any democratic progress and reforms.
"As long as Khamenei is alive the situation is going to remain the same and there will be no changes," she told IBTimes UK.
Sixty-eight seats in the 290-seat chamber were up for grabs on 29 April in a deciding poll held in constituencies without clear a majority in the first round of polls in February. Reformists and moderate forces backing President Hassan Rouhani need to win at least 40 seats to seize control of the parliament from hardline conservatives.
The February vote was hailed as a success for the moderate bloc which made consistent gains winning all of Tehran's 30 seats. Ebadi however argued the victory was largely symbolic as the legislature holds little real power. It can throw its weight behind policies proposed by Rouhani but the Guardian Council, a powerful body composed of six Islamic experts appointed by the Supreme Leader and six jurists nominated by the judiciary has a veto power on all legislations.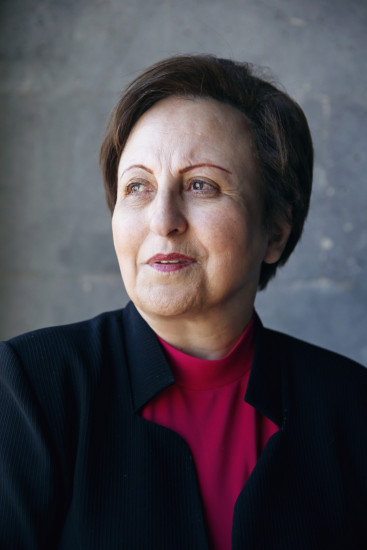 "The main representative of the reformist movement, Mohammad Khatami was president for eight years. During his first term the reformists also held a majority of seats in parliament so both the legislative and executive branches were held by reformists. And what happened? Nothing. None of the policies were actually materialised," she argued.
"Why? Because based on Iranian constitution the Supreme Leader has absolute authority and he has been appointed for life," she added. "So even assuming that the parliamentary majority will be held by the reformists, it will be exactly the same as under Khatami. "
Hardliners are nevertheless taking no changes and local media have been banned from printing the name or pictures of Khatami, who ruled from 1997 to 2005. About 17 million people are eligible to cast a ballot on 29 April. Reminiscent of February, the vote is viewed as a referendum on the nuclear deal struck by Rouhani which came into force in January.
Ebadi said she supported the landmark agreement, which saw the West lifting sanctions in exchange for Iran to curb its nuclear programme, although its approval was sanctioned by the Supreme Leader. However, she said for it to have an impact on democracy and human rights Iran needed to attract long-term contracts able to repair the country's economic infrastructure rather than profit-driven trade deals.
"We want people to invest in Iran not to sign trade deals," she said in a wide-ranging interview on the sidelines of the Aurora Prize in memory of the Armenian genocide held in Yerevan. "Because [this] will reduce poverty and increase employment."
Ebadi, 68, became the first female president of the Tehran city court in 1975 but after the 1979 Islamic revolution she was demoted and forced into early retirement as a woman judge was deemed unsuitable by the new hardline leaders. She became an activist for democratic reform and better rights for women and children for decades. She said her fight, although difficult, helped raise awareness about human rights in Iran.
"In the early part of the revolution Iranian media would describe me as feminist to insult me. They would say 'go away you feminist, you human rights defender'. To them that was a swear word," she said. "Now the whole society is seeking to have human rights."
Her efforts won her a Nobel Peace Prize in 2003 as well as the hostility of Iran's government and powerful clerics. After contested presidential elections in 2009, won by conservative president Mahmoud Ahmadinejad, establishment antagonism quickly grew from threats and harassment to action.
When she was abroad, she said her husband of 34 years was lured in a honey trap. He was seduced by an acquaintance in a set-up filmed by the secret police and subsequently arrested for adultery.
To avoid death sentence he was forced to publicly denounce his wife as a stooge of the West. Meanwhile police had frozen all of Ebadi's bank accounts and even seized her Nobel medal.
"In a month I lost everything I had. My job, all my assets, my back accounts, my husband and my homeland," she said. "Some of my colleagues ended up behind bars."
She has remained in exile since but has not lost the will to fight. "In fact I have worked harder than ever before," she said. "Women and especially young women they must not be cowered by any defeat. I tell them: never despair and continue until we are free."