Iran Unveils Finger Amputating Machine for Convicted Thieves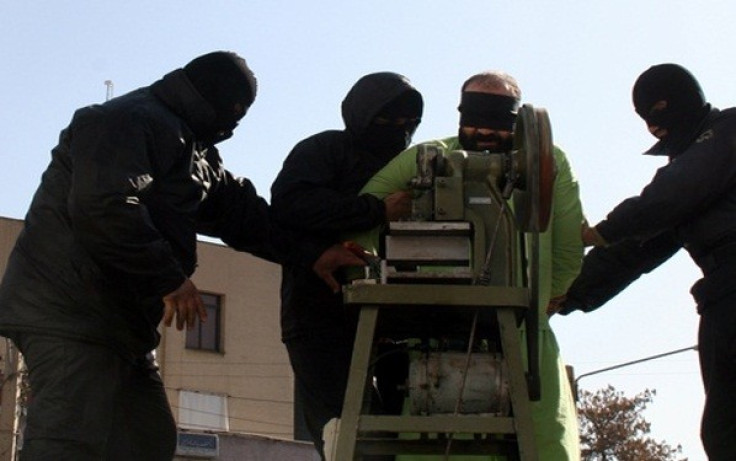 Iran has unveiled a medieval-style machine that saws of the fingers of criminals at public amputations.
The Iranian news agency INSA has published photographs showing a blindfolded man having his hand placed into the vice by three men wearing balaclavas. One of the men then turns a wheel which operates a guillotine similar to a rotary saw.
According to the INSA news service, the man was sentenced to have his fingers amputated after he was found guilty theft and adultery by a court in Shiraz. He was also accused of being at the head of a criminal organisation.
In addition to the public amputation, the man was also sentenced three years in prison and 99 whip lashes.
The thief does not appear to be in any great pain in the photographs, leading to speculation he was either drugged beforehand or that the photos have been published to warn Iranians from committing crimes or protests in the future.
Speaking to France 24, Iran Human Rights spokesperson Mahmoud Amiry-Moghaddam said: "What is surprising about this is that not only was this a public amputation, but that photos of it were distributed by official press agencies, and that they showed a machine that we had until yet never seen images of.
"We have noticed that the authorities have recently being making more and more publicity surrounding cases of corporal punishment.
"Every time we get closer to an election, the number of these incidents increases. And we're getting quite close to the presidential election. I believe this is a strategy to instil fear in the population so as to avoid any protests."
Following the amputation, Ali Alghasi, Shiraz's public prosecutor, announced that sentencing and punishment for convicted against criminals would become increasingly severe, but did not explain why.
Two thieves were hanged in public in Tehran on 20 January having being caught the robbing a man the equivalent of £16 at knifepoint.
© Copyright IBTimes 2023. All rights reserved.