Iran's foreign minister Mohammad Javad Zarif has rejected Israeli accusations that it discovered a Gaza-bound weapons consignment from Tehran.
Zarif said that the "failed lies" were made "just in time" for the American Israel Public Affairs Committee (AIPAC) conference in Washington which was addressed by Israel prime minister Benjamin Netanyahu.
"An Iranian ship carrying arms for Gaza. Captured just in time for annual (pro-Israel lobby) AIPAC anti Iran campaign. Amazing Coincidence! Or same failed lies," Zarif tweeted to over 200,000 Twitter followers.
The Israeli military alleged that it had intercepted a vessel in the Red Sea found to be transporting dozens of Syrian-made M302 rockets sent from Iran to Palestinian militants in the Gaza Strip.
The official IDF Twitter account posted photos of the rockets and a map of the route the vessel took before it was seized near Sudan, 1500km from the coast of Israel.
"The claim of sending a ship carrying Iranian weapons to Gaza is not true," Deputy Foreign Minister Hossein Amir Abdollahian said, according to IRNA news agency.
"This claim is merely based on the repetitive and unfounded lies of the Zionist media," he continued.
The Klos-C vessel was transporting rockets with a range of 150km to 200km (93-124 miles), according to Israeli military spokesman Brig-Gen Moti Almoz.
"The ship may be carrying other weapons as well, but we can only know this when it reaches Eilat.
"There is clear and unequivocal information that this came from Iran," he said.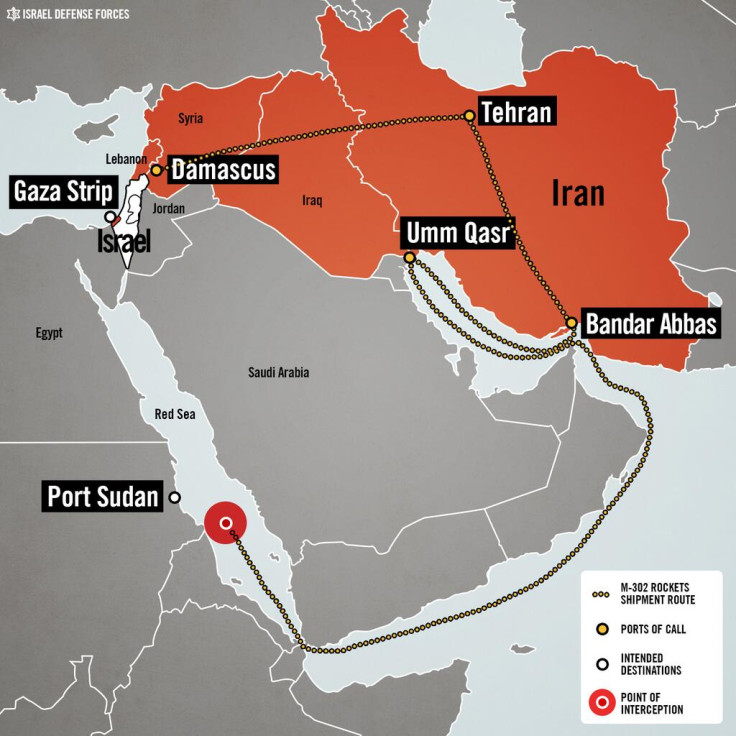 The Israeli army received governmental authorisation before launching the early morning bust.
The IDF Spokesperson claimed that the raid was legitimate: "The operation was carried out in accordance with international law. The IDF would continue to thwart the arms race that Iran is leading in an attempt to inflame the region, and will use all means at its disposal to ensure the security of Israeli citizens."
Past Israeli swoops on weapon consignments sent by Iran have included the "Francop" raid off the coast of Cyprus in 2009, where 500 tons of weapons were discovered on their way to Hezbollah, and the 2003 "Karine A" raid, seizing 50 tons of projectiles and ammunition en route to the Gaza Strip.