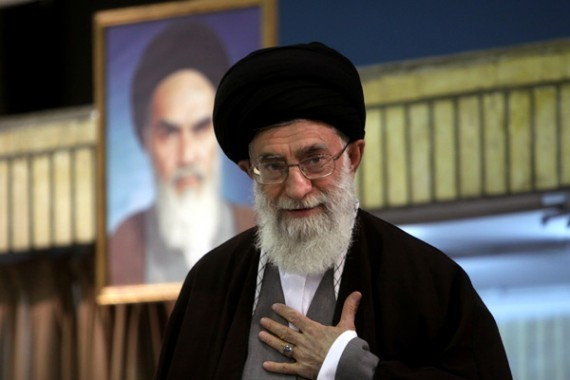 Iran's supreme leader Ayatollah Ali Khamenei has poured scorn on the US as the country is set to kick off talks with world powers in Geneva over its contentious nuclear programme.
In his message to Hajj pilgrims, Khamenei, who wields the ultimate authority in Iranian matters, said the "arrogant governments" spearheaded by the US "conceal their true character with the help of comprehensive and advanced propaganda tools".
He added: "By claiming that they support human rights and democracy, they deceive public opinion in different countries. They speak about the rights of all nations while each day Muslim nations feel - with their bodies and souls - the fire of discord more than the past."
Dubbing the US as one of the "leaders of global arrogance", the Ayatollah said the Obama administration is threatening scores of countries across the world with military intervention, economic clampdown and "other acts of sabotage".
Khamenei's remarks have come at a time when US and Iranian diplomats are set to hold talks on the sidelines of a two-day meeting in Geneva.
Iran's Deputy Foreign Minister Seyed Abbas Araqchi, who will lead the Iranian delegation during the second round of talks, said his team was looking forward to meeting their US counterparts to discuss Iran's nuclear activities, according to the IRNA news agency. However, it is unclear whether diplomats from other countries will be involved in the talks.
The US is reportedly willing to ease some of the crippling sanctions on Iran if it is ready to address Washington's concerns over its uranium enrichment programme.
Six world powers - the US, Britain, Russia, China, France, Germany - are meeting Iranian delegates for the first time under the new leadership of Hassan Rohani. Although no breakthrough is expected at the talks, the discussions are likely to pave the way for further negotiations.
Iran is reeling under a severe economic clampdown as the west suspects the country is enriching uranium to produce nuclear weapons, which Tehran denies.