Iran and World Powers Clinch Nuclear Deal in Geneva
President Barack Obama welcomes interim deal and urges Iran to prove its nuclear programme is for civilian purposes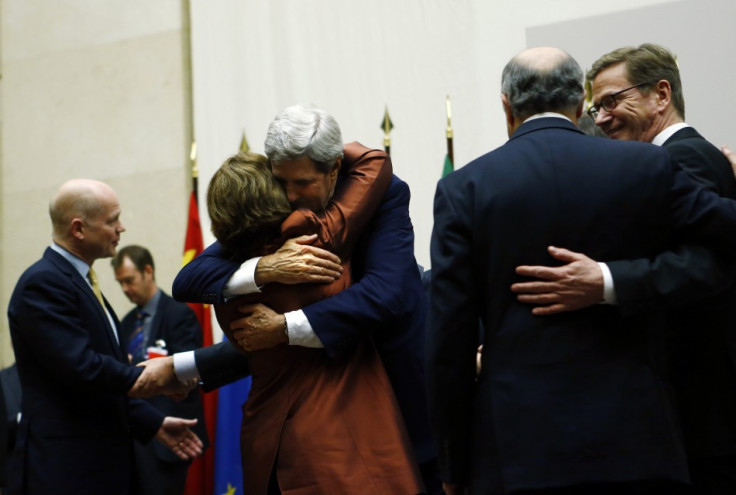 Iran and six major world powers have clinched a landmark nuclear deal following marathon five-day negotiations in the Swiss city of Geneva, ending a decade-long standoff.
What is called as the "first-step" that eventually led to the accord was achieved after an intense final round of talks which lasted for about 18 hours and ended early on Sunday morning (24 November).
Under the terms of the interim agreement between Iran and the P5+1 powers (Britain, China, Russia, France, Germany and the US), Iran will curb its nuclear programme in return for an easing of some economic sanctions.
"This is only a first step. We need to start moving in the direction of restoring confidence, a direction in which we have managed to move against in the past," Iranian foreign minister Mohammad Javad Zarif told reporters.
Western nations have long suspected that Iran is using its nuclear programme to develop atomic weapons, a claim strongly denied by Tehran, which says the programme is for civilian purposes only.
The deal has also been separately confirmed by French foreign minister Laurent Fabius and European Union foreign policy chief Catherine Ashton, who coordinated the talks.
"After years of blockages, the agreement in Geneva on Iran's nuclear programme is an important step to preserving security and peace," Fabius said.
Foreign Secretary William Hague wrote on Twitter that the deal is an "important and encouraging" step and Iran's nuclear programme "won't move forward for six months and parts rolled back".
Welcoming the accord, US President Barack Obama said the deal includes "substantial limitations which will help prevent Iran from building a nuclear weapon".
Obama said: "Today we have a real opportunity to achieve a comprehensive settlement and I believe we must test it. The burden is on Iran to prove that its nuclear programme is purely for peaceful purposes."
Although the details of the agreement are still sketchy, a western diplomat familiar with the matter told Reuters that Iran will get access to $4.2bn in foreign exchange.
The Guardian cited a senior American diplomat as saying that the deal will stop Iran from pressing ahead with its nuclear ambitions. It will also halt construction in the Arak research reactor, a cause of major concern for the western world.
Under the deal, Iran will also reduce its uranium enrichment activities significantly.
Top delegates from the countries have been involved in the talks since Wednesday (20 November), which were extended after a possible breakthrough was in sight.
The countries will hold final-stage agreements with Iran if the interim accord is adhered to in the coming months.
President Barack Obama's Full Statement on Iran's Nuclear Deal with World Powers [VIDEO]
© Copyright IBTimes 2023. All rights reserved.