The nuclear deal struck with Iran cleared an important hurdle in the UN Security Council, with a unanimous vote on 20 July. But Israel again spoke out loudly against the deal.
"You have awarded a great prize to the most dangerous country in the world," Ron Prosor, Israel's ambassador to the UN, told officials after the vote, likening the move to allowing criminals to sit on their own jury.
Prosnor brought with him a map that he said shows how Iran "has spread its tentacles" throughout the world with involvement in "smuggling arms" and "illegal proliferation activity".
Once sanctions are lifted, "Iran will now have $150bn (£96.2, €138bn) to fund terrorist groups", said Prosor, "until this map becomes entirely red".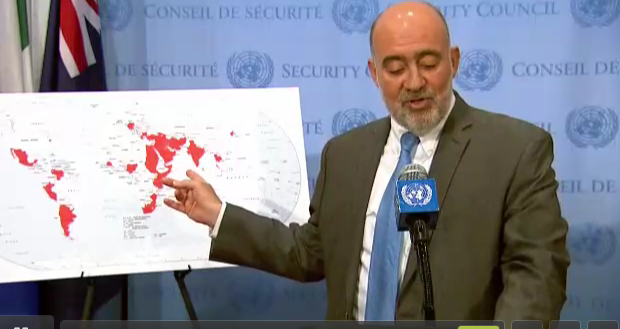 All 15 countries on the Security Council voted unanimously to endorse the deal. Five permanent members, including China, the US, the UK and Russia, have veto power. The 10 non-permanent members elected for two-year terms currently include Chad, Jordan, Spain and New Zealand.
The nuclear non-proliferation agreement – reached in Vienna 14 July between representatives from Iran, the US, the UK and the EU – would see economic sanctions on Iran lifted in exchange for the country to cease pursuit of a nuclear weapon and for access to be granted in order for that commitment to be monitored.
The EU approved the deal on 20 July, and moved to lift its economic sanctions on Iran when Federica Mogherini, the negotiator and High Representative of the European Union for Foreign Affairs, brought the issue to the union's foreign ministers.
"It is a balanced deal that means Iran won't get an atomic bomb," said French Foreign Minister Laurent Fabius. "It is a major political deal."
After being approved by the UN and EU, the deal only has to pass US congress. President Barack Obama has promised that he will use his veto to block any opposition. But the Republican-controlled congress still wields the levers that could lift the Iran Sanctions Act. If the act is not lifted, it could make foreign investors with eyes on Iran much more cautious, as it would present the risk that they could be punished in the US.
The US Congress has 60 days from 20 July to decide whether it will approve the deal.
Prosor called the deal dangerous for the stability of the region. Syria's President Bashar al-Assad and the leaders of Saudi Arabia have alternately praised and denigrated the agreement.
"This is a catastrophe," said Prosnor. "When Israel and its Arab neighbours see eye to eye... well that means pay attention."
The "Iranians are metaphorically laughing in everyone's face. When the villain is laughing, you know something is wrong. His laughter echoes throughout the world loudly and clearly."