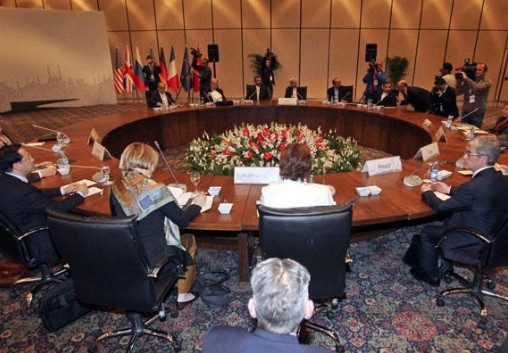 Talks between Iran and other nuclear nations in Baghdad have been extended by a day after Wednesday's discussions remained inconclusive.
This is the second round of talks after the first round that took place in Istanbul earlier.
"We have got engaged...we have had detailed discussions. I believe we have the beginning of a negotiation," Reuters quoted a senior US official as saying.
Wednesday's talks largely focused on whether Tehran's present enrichment-level uranium will be a threat to world nations especially the US. Both the US and the Europe have imposed sanctions on Iran and urge other countries to follow the same line.
Both the US and Israel have warned Iran it would be attacked if talks and sanctions fail to curb its nuclear programme.
"The international community hasn't done something wrong here - we haven't created a suspicious nuclear weapons programme that the world doesn't know the answers to. Iran has," the Associated Press quoted a senior US official as saying.
"They are the party who has acted to create concerns in the international community. [However] we certainly are not at the end of it [negotiations]," the official said.
Iran maintained that its uranium enrichment programme is only for peaceful purposes.
Permanent members of the UN Security Council and Germany (P5+1) who are currently holding talks with Iran reportedly offered a package to the country in return for halting its uranium enrichment level at 20 percent.
According to the AP report, the nations offered medical isotopes, spare parts for civilian airliners and nuclear safety cooperation as part of the package which Iran is in desperate need.
At the same time, the countries refused to ease any of the economic sanctions.
In what could be a crucial step forward, Tehran agreed ahead of the talks to allow UN inspectors into a military complex where the nuclear tests are believed to be conducted.
The US and Europe have scheduled sanctions of their oil imports from Iran from 1 July which could be a huge blow to Tehran's economy.
Apart from the talks, bilateral meetings also took place which went into late Wednesday night.