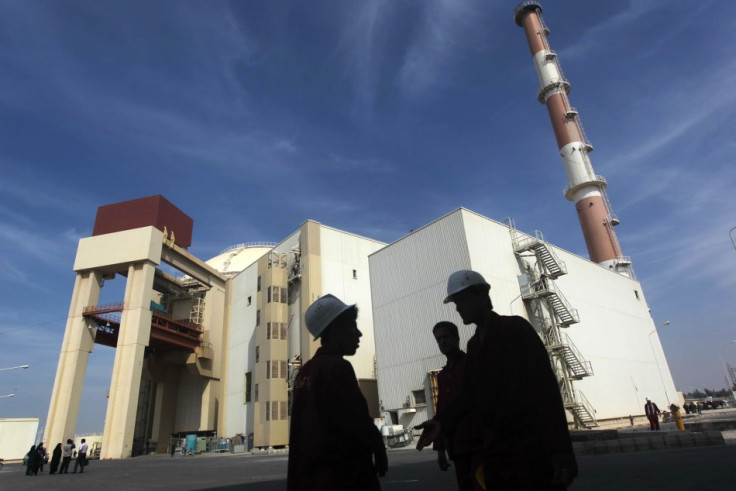 Iran's nuclear ambitions started taking shape in 1950, with the help of the United States and other European nations through a program called "Atoms of Peace". The program was halted in 1979, after the then Shah of Iran was defeated by the return of the present Supreme Leader, Ayatollah Khomeini. Much against the express wishes of the rest of the world, the Iranian Republic went about pursuing nuclear capability, in secret installations and classified developments.
Check out the timeline of Iran's nuclear ambitions...
August, 2002: U.S. President George W. Bush states Iran is part of an "axis of evil", alongside North Korea and Iraq, for secretly developing military nuclear capabilities. Investigations reveal Iran is setting-up to nuclear plants.
September, 2002: Iran's nuclear authority head confirms the country has begun setting-up its first nuclear plant, at Bushehr, with assistance from Russian scientists. The International Atomic Energy Association (IAEA) questions the purpose of nuclear enrichment while the U.S puts pressure on Iran to discontinue nuclear programs.
November, 2003: Iran declares it is stopping its nuclear enrichment programs and agrees to allow in-depth investigation of its facilities by the United Nations (U.N.), to prove responsible development of nuclear capabilities. The U.N. gives Iran a clean chit and says Tehran is not pursuing military nuclear development for war.
June, 2004: The IAEA notes a lack of support from the Iranian government, towards free, unbiased and transparent nuclear probes.
November, 2004: Iran agrees to suspend most of its uranium enrichment under a deal with the EU.
June, 2005: Mahamoud Ahmadinejad (the current President of the Iranian Republic) comes to power, after a comfortable win the former President, Akbar Hashemi Rafsanjani.
September, 2005: The President declares he will look to re-instate nuclear enrichment programs and promises it is for generating energy and not for military use. The IAEA, in turn, declares Iran in violation of the Nuclear Proliferation Treaty.
January, 2006: Iran breaks seals placed by the IAEA at its Natanz nuclear facility, without authorisation.
February, 2006: The IAEA declares that the continual development of its nuclear capabilities is a global threat and reports Iran to the UN. Iran dismisses concerns and continues operating its Natanz plant.
April, 2006: Iran confirms they have successful re-started nuclear operations at Natanz.
August, 2006: The UN places a deadline on Iran to stop uranium enrichment. The country is warned of sanctions if they fail to comply.
February, 2007: Iran has a fresh set of sanctions slapped on its economy for disobeying the UN.
April, 2007: President Ahmedinejad declares his nation is capable of producing nuclear fuel on an industrial scale.
May, 2007: The IAEA says it suspects Iran can produce nuclear warheads inside 8 years.
June, 2007: Iran tries restricting use of petroleum products in the country, to resist international sanctions and get maximum value through the production petro chemicals, upsetting Iranian nationals.
October, 2007: The U.S. hits Iran with a wave of sanctions... the harshest in 30 years.
February, 2008: Iran launches a satellite rocket in to space. The U.S. calls the launch "unfortunate" and says it does not believe Iran's claims the satellite was launched simply to safeguard itself.
June, 2008: The EU makes Iran an offer. They say they will improve trading ties if the country stops its nuclear enrichment programs. Iran refuses the offer.
July, 2008: Iran test-fires long-range missile. It says the Shahab 3 is capable of targeting Israeli targets.
September, 2008: The UN issues a fresh warning to Iran. However, it fails to impose stiffer sanctions due to Russian support for Iran.
November, 2008: As a goodwill gesture, Ahmedinejad congratulates Barack Obama on his becoming the President of the United States.
February, 2009: President Ahmedinejad says he is willing to open talks with the U.S., provided his country is treated with respect.
March, 2009: Iran's Supreme Leader, the Ayatollah Khomeini, says Obama is blindly following the steps of the nation's former President, George Bush, with regard to the situation in the Middle East.
May, 2009: The U.S. calls Iran a sponsor of terrorism. The claim is refuted by Iran.
June, 2009: President Ahmedinejad wins re-election, by a landslide.
September, 2009: Iran announces decision to open another nuclear enrichment plant, this time at Qom. The official statement says it is for peaceful purposes.
October, 2009: The United Nations Security Council (UNSC) and Germany offer Iran a deal whereby its uranium would be enriched abroad and transported back.
November, 2009: Iran announces it plans to set up ten nuclear facilities, in the near future.
February, 2010: Iran says it will consider the Oct. 2009 proposal of the UNSC. The U.S. says it does not believe Iran and calls for concrete action from the latter. Iran begins producing higher grade nuclear fuel at its facility in Nantanz enriching it to 20 percent.
May, 2012: Iran reaches deal to send uranium abroad for enrichment. Western nations say this will not stop Iran from continuing to enrich uranium secretly.
June, 2012: The U.N. imposes a fourth round of sanctions and an expanded arms embargo.
August, 2010: Iranian officials announce a landmark event - the country begins loading fuel into the Bushehr plant.
September, 2011: The IAEA says there is proof Iran is developing nuclear weapons for military use. Tehran defends itself, stating all development were for peaceful use.
February, 2012: President Ahmedinejad is quoted as saying Iran is ready to make a big announcement in the world of nuclear power.
February 15, 2012: Iran announces it is capable of developing fuel rods for nuclear reactors. Sanctions against Iran reach an all-time high. The Islamic nation plans to keep the flow of essential supplies constant by exchanging fuel in place of cash payouts. All major nations are hesitant to involve themselves in dealing with Iran. In a retaliatory statement, the country warns of sealing the Strait of Hormuz, a vital sea link for most nations doing business in the Middle East.