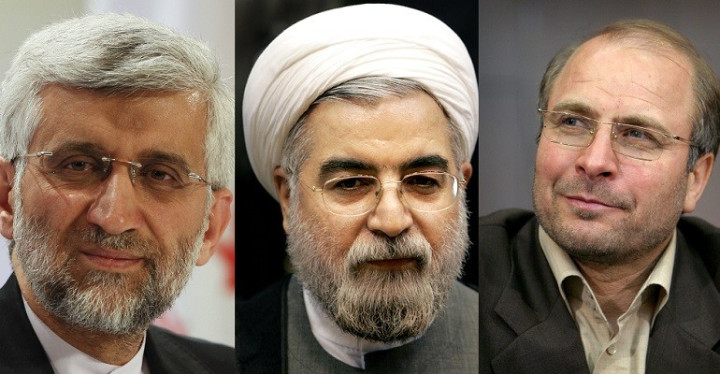 Just six candidates remain in the battle to succeed Mahmoud Ahmadinejad as president of Iran, after former parliamentary speaker Gholam-Ali Haddad-Adel and Mohammad Reza Aref withdrew from the race.
Hadded-Adel, a relative of Ahmadinejad by marriage, withdrew without explanation, but implored the Iranian people to vote for a conservative candidate in the elections. Aref, the only reformist candidate left in the contest, withdrew on the advice of his own progressive movement.
Hadded-Adel's exhortion could play into the hands of Saeed Jalili, who is renowned for his hardline views. However, in a field exclusively comprised of conservative thinkers, it is hard to pick a winner.
As the election draws closer, IBTimes UK takes a look at the six candidates who remain.
SAEED JALILI: Iran's nuclear negotiator since 2007 is a veteran of the Iran-Iraq war and seen as a hardline conservative close to clerical Supreme Leader Ayatollah Ali Khamenei.

HASSAN ROHANI: A moderate Muslim cleric, he previously served as nuclear negotiator, presiding over talks with Britain, France and Germany that saw Tehran agree to suspend uranium enrichment-related activities between 2003 and 2005. Rohani is associated with former president Akbar Hashemi Rafsanjani.
ALI AKBAR VELAYATI: Served as foreign minister from 1981 to 1997 and advises Khamenei on foreign policy. He is regarded as a traditional conservative, with ties both to "principalist" factions - fiercely loyal to the supreme leader - and to Rafsanjani, the former president's relatively pragmatic camp.
MOHAMMAD BAQER QALIBAF: A former police chief, he is the current mayor of Tehran and has a reputation as a competent, charismatic manager who could attract Iran's sizeable youth vote. He is viewed as a pragmatic conservative.
MOHSEN REZAIE: The veteran politician and former Revolutionary Guards commander ran in 2009 against Ahmadinejad and lost. He is the secretary of Iran's Expediency Council, which advises Khamenei.
MOHAMMAD GHARAZI: Running as an independent candidate, Gharazi served as an oil minister in the 1980s during Iran's war with Iraq and as post minister under Rafsanjani in the 1990s.
The election will be held on 14 June.