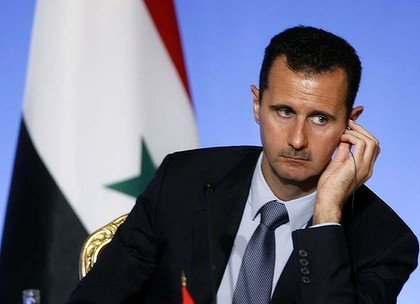 A top military leader in Iran has refused to rule out intervention in Syria to protect the regime of President Bashar al-Assad.
Brig Gen Masoud Jazayeri was quoted in several reports warning that although Iran had resisted intervening in Syria's civil war, it was keeping its options open.
"There is still no need for Syria's circle of friends to fully enter the arena and our assessment is that there will be no need to do so," Jazayeri said, according to the Shargh daily.
But he added the rider: "In special situations, we decide how to support the regional [anti-Israeli] resistance and our friends. We shall wait to see the future situation and conditions.
"We are very sensitive and we will not allow the enemy to advance."
Iranian fighters have already joined Syrian troops unofficially to help repel rebel fighters with the Free Syrian Army, Gen Hamid Reza Moqadam-Far, a senior commander-in-chief of the Revolutionary Guard, told the Kayhan newspaper.
He said failure by the rebels would "deliver an enormous blow to Saudi Arabia and Western countries".
Throughout the 17-month uprising, which has claimed the lives of at least 20,000 people, Iran has remained loyal to the Syrian regime.
Iran sees Syria as one of its key regional allies and part of the anti-Israel bloc that includes Hezbollah in Lebanon and the Palestinian group Hamas.
Officials in the Islamic Republic have repeatedly said that Iran should be included in Western and Arab League initiatives to find a political solution to the Syrian conflict but their calls have been shunned.
Assad calls for help?
As the war in Syria grinds on and the armed struggle homes in on in the capital Damascus and Syria's major city of Aleppo, Assad said the outcome of the conflict would seal the fate of the nation.
"The fate of our people and our nation, past, present and future, depends on this battle," Assad said in a speech marking Armed Forces Day.
"Through confronting the terrorist criminal gangs you have [shown] steely resolve and conscience and are the trustees of the people's values," he told troops.
"My trust in you is great [as is] the trust of our people in you. You are the defender of [our] just causes," he told state news agency Sana.