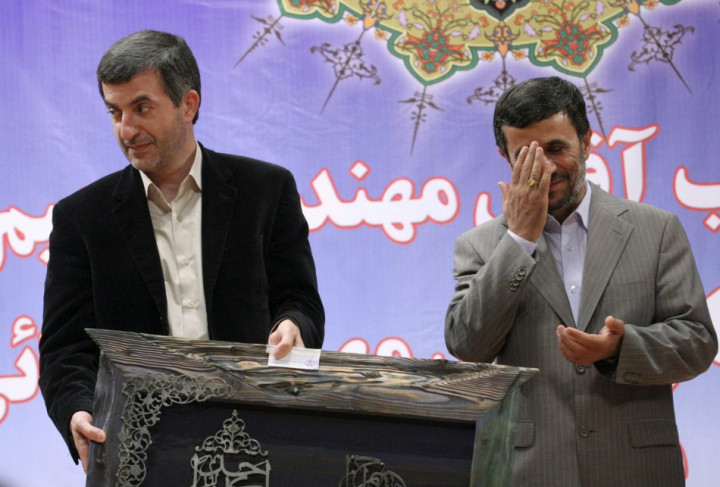 Iran's President Mahmoud Ahmadinejad will challenge his protégé's disqualification from the presidential election.
The election overseeing body appointed by Supreme Leader Ayatollah Ali Khamenei has excluded Ahmadinejad's former chief of staff, Esfandiar Rahim Mashaei, from the final list of candidates for the top office.
Ahmadinejad said the ban was an act of "oppression" and he would take the case to the Supreme Leader.
"I introduced Mashaie and I know him," Ahmadinejad said. "He is a righteous person and beneficial for the country and I believe he is capable."
"There will be no problem with the leader [Khamenei] and I will take up this issue with him," Ahmadinejad said. "I am hopeful the problem will be solved."
The Guardian Council also barred former reformist president Akbar Hashemi Rafsanjani, 78, from the race. That leaves eight candidates in the field - most of them hardline conservatives close to the Supreme Leader.
Mashaie, described the council's decision to bar him as unlawful.
"We ask the Supreme Leader to review the Guardian Council's decision, which clearly seems to be a violation of the law. We also appeal to the president to use his legal position as the executive power of the constitution to correct this injustice," Mashaei said.
Ahmadinejad, who cannot run for a third consecutive term at the 14 June ballot under constitutional laws, had previously threatened that he would release evidence of high-level corruption in the government if Mashaei were excluded from nomination.
Backed by the clerical conservative establishment throughout his first term, Ahmadinejad fell from grace with Khamenei in 2011.
The eight-candidate list approved by the council includes senior figures seen as loyalists to Khamenei, including former foreign minister Ali Akbar Velayati, Tehran mayor Mohammad Bagher Qalibaf and Iran's top nuclear negotiator, Saeed Jalili.
Rafsanjani's exclusion is set to frustrate moderates' hopes as only one approved candidate, Mohammad Reza Aref, a vice-president under former president Mohammad Khatami, is considered close to reformers.