Iran has promised Bahrain will "pay the price" after the Sunni monarchy stripped a top Shia cleric of his nationality. The stark warning has come after Bahrain revoked the citizenship of Ayatollah Sheikh Isa Qassim, who is widely seen as the spiritual voice of the Shia majority.
Bahrain's interior ministry accused the cleric of creating an "extremist" atmosphere in the country to divide the society on sectarian lines. The ministry's statement, carried by the Bahrain News Agency, read: "Through his [preaching] and 'fatwas' he exploited the religious pulpit for political purposes to serve foreign interests. He also encouraged sectarianism and violence." In a thinly veiled reference to Shia-inclined Iran, the ministry said that the cleric was using his position to serve "foreign interests". It is still not clear whether Qassim would be forced to leave Bahrain.
Shortly after the announcement, thousands of Shia supporters gathered outside the cleric's house in a show of strength against the kingdom. The move has also come just a week after the Bahraini regime outlawed the main opposition group, al-Wefaq, for similar reasons of assisting foreign powers.
Iran, the Shia powerhouse in the region and a fierce critic of the Bahraini monarchy, has been in a bitter spat with other Sunni-ruled states in the recent past. The animosity rose sharply after Saudi Arabia, another regional heavyweight dominated by the Sunnis, engaged in a diplomatic tussle with Tehran.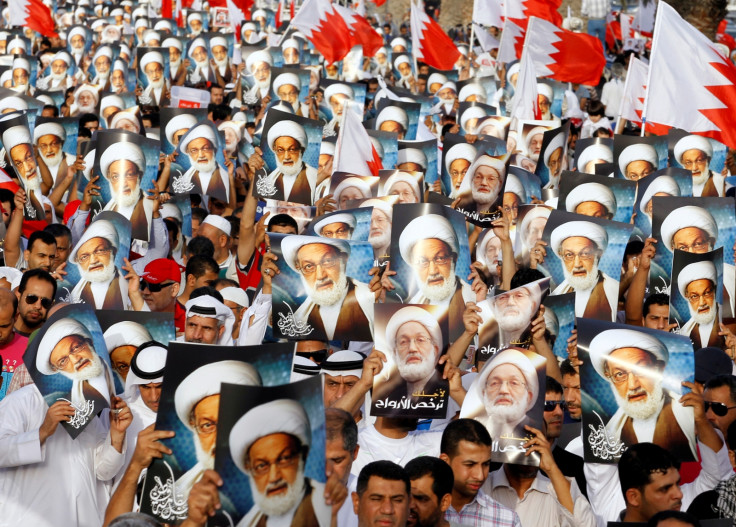 Responding to the latest decision by Bahrain, Iran's Major General Qasem Soleimani, the commander of the armed forces, said the kingdom crossed a red line. According to the state-backed Press TV, he said: "Definitely, Al Khalifah will pay the price for this and it will result in nothing other than the collapse of this bloodthirsty regime." He went on to warn that increasing crackdown on the Shia population in Bahrain will result in "triggering a bloody intifada [an uprising]" in the country.
Similarly, Hezbollah - a Shia Islamist militant group based in Lebanon – often seen as a long arm of Iran – also threatened of "grave consequences" over the development. Unsurprisingly, Saudi Arabia has welcomed the decision.