The Federal Aviation Administration (FAA) has announced that all US flights are now banned from flying over Iraqi airspace "due to the hazardous situation" on the ground as the Islamic State continue to control large areas of the country's northern regions.
"Due to the potentially hazardous situation created by the armed conflict between militants associated with the Islamic State in Iraq and the Levant (Isis) and Iraqi security forces and their allies, all flight operations in the Baghdad flight information region (ORBB) ... are prohibited until further advised," the FAA notice-to-airmen (NOTAM) read.
Turkish Airlines spokesman Ali Genc confirmed on Twitter that Turkish Airlines were suspending flights to Erbil, the capital of the Kurdistan region of Iraq (KRI) until further notice because of similar security concerns.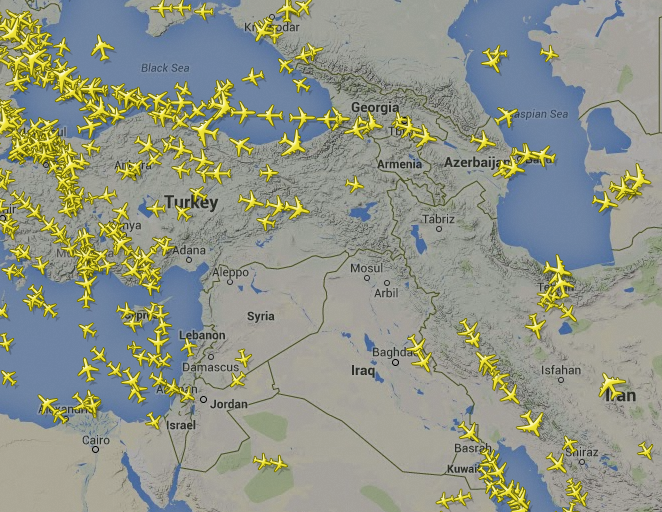 Following the suspected shooting down of Malaysia Airlines flight MH17 in eastern Ukraine by pro-Russian separatists, the agency banned US flights from flying lower than 30,000ft over Iraqi airspace on 31 July.
Unlike the US agency, British Airways said that its flights would continue to fly over Iraqi airspace despite the growing insecurity on the ground, where militants have sufficient artillery capabilities to pose a threat to aircrafts.
In light of the deteriorating security situation in Iraq, the US military has launched air strikes against militants of the Islamic State in northern Iraq, the Pentagon revealed.
Pentagon Press Secretary Rear Admiral John Kirby tweeted: "US military aircraft conduct strike on Isil [Islamic State] artillery. Artillery was used against Kurdish forces defending Erbil, near US personnel."
Two F-18 fighters dropped laser-guided 500-pound bombs on the mobile artillery target. Militants of the Islamic State were using artillery that has been abandoned by the Iraqi army when it fled to shell Kurdish forces defending the regional capital of Kurdistan.