Barack Obama Authorises Targeted Airstrikes On Isis Convoys In Iraq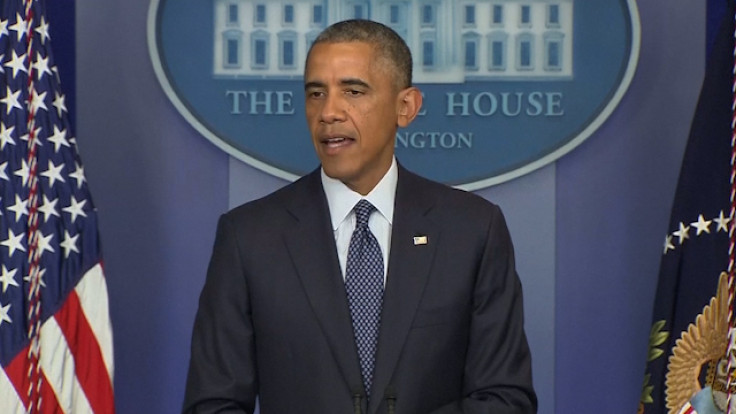 The US president has authorised airstrikes in Iraq to protect American personnel and help the Iraqi government, saying that the US cannot turn a blind eye to a potential act of genocide.
Announcing the decision, Barack Obama said: "We do whatever is necessary to protect our people. We support our allies when they're in danger."
In a late night statement from the White House, the president explained that the Islamic State of Iraq and Syria (Isis) has "continued to move across Iraq and have neared the city of Erbil, where American diplomats and civilians serve at our consulate and American military personnel advise Iraqi forces to stop the advance on Erbil".
"I directed our military to take targeted strikes against ISIS terrorist convoys should they move toward the city.
"We intend to stay vigilant and take action if these terrorist forces threaten our personnel or facilities anywhere in Iraq, including our consulate in Erbil and our embassy in Baghdad.
"When we face a situation like we do on that mountain with innocent people facing the prospect of violence on a horrific scale, when we have a mandate to help, in this case a request from the Iraqi government, and when we have the unique capabilities to help avert a massacre, then I believe the United States of America cannot turn a blind eye. We can act, carefully and responsibly to prevent a potential act of genocide."
The president also announced that the US launched air drops of food and water on a mountain in northern Iraq where a religious minority group Yazidi remains trapped by Islamic militants.
The air drops included a C-17 and two C-130s, CBS reported. US forces also dropped 72 pallets and were escorted by F18s.
Acknowledging American concerns over military action in Iraq, Obama said: "As Commander in Chief, I will not allow the United States to be dragged into fighting another war in Iraq, so as we support Iraqis as they take the fight to these terrorists, American combat troops will not be returning to fight in Iraq because there is no American military solution to the larger crisis in Iraq."
The calls for US involvement escalated in June when Isis militants seized Mosul, Iraq's second largest city. Since then, the militant group has been gaining in strength. While the Republicans have been pushing for greater US involvement, the Democrats prefer keeping away from Iraq's civil war.
UN Condemnation
Obama's announcement came hours after the United Nations Security Council condemned the recent attacks by the Islamic State group in Iraq and called for international support for the country.
"The members of the Security Council call on the international community to support the government and people of Iraq and to do all it can to help alleviate the suffering of the population affected by the current conflict in Iraq," Britain's UN Ambassador Mark Lyall Grant, president of the council for August, said after a meeting of the 15-member body.
Spate of bomb attacks
Recent bomb attacks in the Iraqi capital of Baghdad and Kurdish-controlled northern Iraqi city of Kirkuk killed many people.
Suicide bomb attacks killed at least 35 people in Kadhimiya, a Shia area in northern Baghdad, and two other car bomb attacks claimed nine people in Kirkuk, police sources said.
The explosions near a Shia mosque in Kirkuk holding displaced people came after an offensive launched by Isis insurgents who have routed Kurdish forces in the north. The Isis has been fighting troops from the Kurdish and central governments.
The militant group recently took control ofIraq's largest dam, the country's largest Christian town and surrounding areas. Qaraqosh, with a population of about 50,000, lies between Isis-controlled Mosul and Erbil, the Kurdish region's capital in the north of the country.
© Copyright IBTimes 2023. All rights reserved.