Parents trapped with their families on a mountain by Islamic State militants are resorting to cutting themselves so their starving children can drink their blood.
40,000 members of the Yazidi community have been trapped on Mount Sinjar in northern Iraq for 10 days without food or water, under siege from Jihadist fighters.
They fled their village when the Islamic State group captured the northern Iraqi town of Sinjar, near the Syrian border.
The Yazidis are a religious minority, who practice an ancient religion with links to Zoroastrianism, that the Sunni Muslim radicals consider heretical. IS had issued an ultimatum to the Yazidi community to convert to Islam, pay a religious fine, flee their homes or face death.
8,000 Yazidis, who escaped down the mountain to a makeshift refugee camp in Dohuk Province in Kurdistan, have described the desperate plight of those they left behind. One man recalled seeing four children die of thirst in front of him. Others described the desperation of parents, who cut their own hands to feed their thirsty and dehydrated children their blood.
One woman carrying a child told a Channel 4 reporter how she was forced to make a mountain goat suckle her 2-month-old baby after her own breast milk ran out.
Witnesses have also described seeing terrified women from the Yazidi sect throw themselves "to their deaths" from the Sinjar mountains to avoid being raped and sold into sex slavery by Islamic State (IS) militants.
A young man reportedly killed his four sisters before killing himself, preferring death by their own hands, than suffering the brutality of the IS militants.
British Kurd Taban Shoresh who witnessed the harrowing scenes told Sky News: "We need to do something to rescue those people - 30,000 people trapped on a mountain by IS in fear of extermination. There is no way out - the only way to get to them is by helicopter.
"They've got absolutely nothing, and I can't stress this enough. No food, no water. They're dehydrated. They've got no clothes; their shoes have been worn off. It is extremely hot and exposed to the sun.
"This is the first time in history where 30,000 people have been trapped on a mountain in fear of being killed - all the leaders need to come together and figure out the best way to rescue these people. We can't watch 30,000 people die."
President Barack Obama had earlier authorised airstrikes in Iraq to thwart the militants, stating that the US cannot turn a blind eye to a potential act of genocide.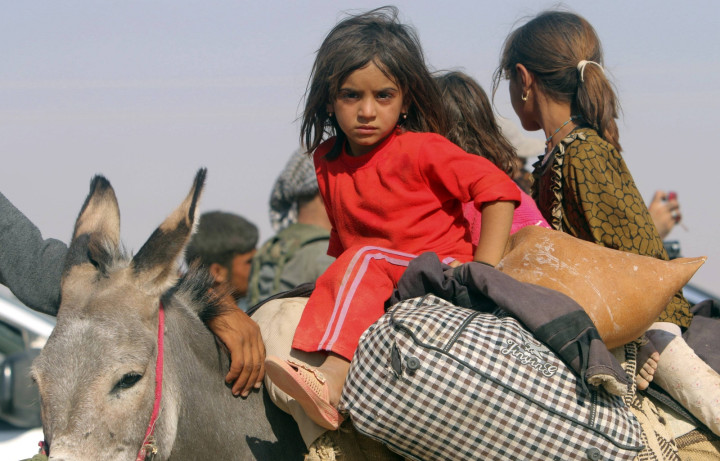 The international community is starting to take action in response to the humanitarian crisis.
The British Government carried out a third round of successful UK air drops last night. Two C130 consignments containing 2,640 reusable water purification containers filled with clean water were dropped by helicopter on the mountain.
More than 500 shelter kits to provide shade in temperatures of more than 40C (104F) were also inside the packages.
Meanwhile, 130 U.S. troops have arrived in Iraq, on what the Pentagon described as a temporary mission to assess the scope of the humanitarian crisis facing thousands of displaced civilians trapped on Sinjar.
UNICEF is delivering water, protein biscuits and hygiene kits to refugees but, with one million people now displaced in Iraq, the organisation is struggling to cope.
British Prime Minister David Cameron is under pressure to consider military intervention, but has insisted the UK will not join the US in air strikes on IS targets.