The Iraqi government is investigating allegations its army used white phosphorus in areas controlled by the Isis terror group in the town of Mosul.
A Kurdish TV station captured an explosion as it was live streaming on Saturday ( 3 June). Footage showed white smoke which typically follows a white phosphorus explosion.
Rights groups have warned that the highly incendiary material could cause "horrific injuries" and it poses a deadly risk to civilians.
Human Rights Watch told Al Jazeera that pictures of the explosion on Saturday show "artillery-delivered WP [white phosphorus] being air-burst. The video is more difficult to assess because of the angle it was shot at".
In the aftermath of the explosion, the Iraqi military issued a statement threatening legal action against media outlets publishing videos or pictures of the blast, Al Jazeera said.
The government said it was investigating the alleged incident. "[We] cannot deny nor confirm – we are investigating into this news and will come up with a statement to clear things up for the public," a spokesperson for the Iraqi Ministry of Defence said.
On Sunday, local media reported the army said the purported attack was in fact smoke screen against Isis snipers who were targeting civilians.
The Joint Operations Command said via the Defence Ministry's War Media Cell that this technique had been already used during past operations in Mosul, independent news site Iraqi News reported.
Last year, rights groups including Amnesty International raised the alarm against the use of white phosphorous in Mosul, saying it could pose a threat to the lives of civilians fleeing the besieged town.
"White phosphorus can cause horrific injuries, burning deep into the muscle and bone. It is possible that some of it will only partially burn and could then reignite weeks after being deployed," Donatella Rovera, Senior Crisis Response Adviser at Amnesty International, said at the time.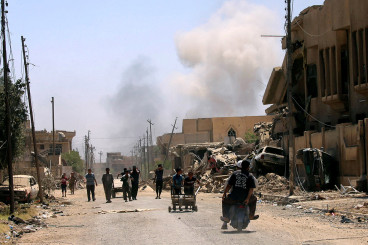 Iraqi troops have been involved in an offensive against Isis, which controls swathes of Iraq and Syria. A coalition led by the US has been helping the Iraqi army in the fight against the terrorists since October 2014.
The Iraqi army, the Kurdistan Regional government and the US-led coalition are also involved in what is known as the 'Battle for Mosul': A joint military offensive that began in October 2016 and aims to retake control of the town, which Isis seized in the summer of 2014.
The army recpatured eastern Mosul in January and it is now fighting to retake control of the western part of the city.
The UN has said that at least 750,000 people have fled since operations to recapture Mosul began.
The organisation said earlier in May another 200,000 people could be displaced by the conflict as military operations move closer to Mosul's Old City area.