Iraq Isis Crisis: Unidentified Gunmen Kill Dozens Including Several Women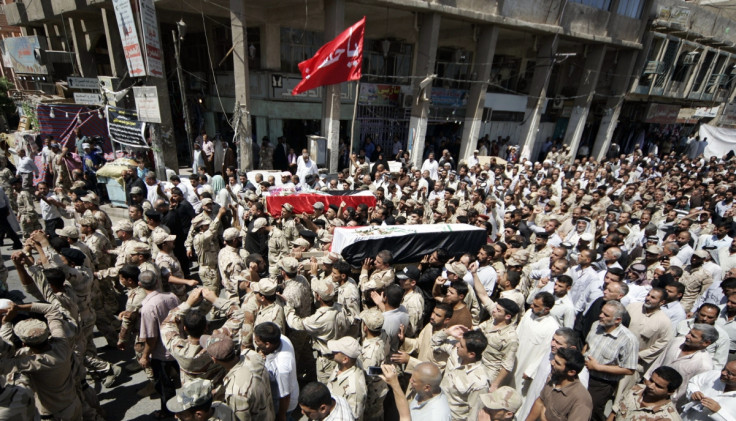 Unidentified gunmen opened fire at scores of civilians at a residential compound in Iraqi capital Baghdad killing several women.
Reports suggest at least 25 women were killed in the attack, which was carried out in the Zayouna neighbourhood in eastern Baghdad.
No group has claimed responsibility for the assault so far and the motive for the attack is still unclear.
"Twenty-five women were killed and eight people wounded, among them four men, when gunmen stormed two buildings in a residential compound in Zayouna in east Baghdad," an interior ministry official told the AFP.
The population of the neighbourhood consists of an equal number of Shiites and Sunnis, with locals pointing fingers at the Shiite extremists for the attack.
The gunmen allegedly stormed the compound because they believed a gang was running a prostitution den there.
"This is the fate of any prostitution," read a writing left on the door.
Security personnel have cordoned off the region.
"When we walked up the stairs, we saw a couple of women's bodies and blood streaming down the stairs. We entered a flat and found bodies everywhere, some lying on the sofa, some on the ground, and one woman who apparently had tried to hide in a cupboard in the kitchen shot to death there," a police official was quoted as saying by Reuters.
War-wrecked Iraq is currently undergoing a bloody turmoil after the Islamic State of Iraq and the Levant (Isis) launched a surprise attack capturing several cities. The Shiite-led administration is battling to uproot Sunni militants, who have already declared an Islamic Caliphate.
© Copyright IBTimes 2023. All rights reserved.