At least 16 explosions killed dozens and injured more than 200 people across Iraq ahead of next week's Arab League summit in the capital Baghdad.
Latest reports suggest at least 46 people died in a series of explosions targeting various part of the country but the death toll is set to increase.
The coordinated bomb attacks were reported in more than a dozen cities but the deadliest blast took place in the holy Shia Muslim city of Kerbala, where at least 13 people died in twin explosions.
Up to 48 people were also injured in the attack which took place during the morning rush hour, according to Jamal Mahdi, a spokesman for Kerbala health department
"The second explosion caused the biggest destruction. I saw body parts, fingers, hands thrown on the road," 23-year-old shop owner Murtadha Ali Kadhim told Reuters.
"The security forces are stupid because they always gather at the site of an explosion and then a second explosion occurs. They become a target" he added.
Explosions were also reported in the capital, Baghdad, but also cities including Kirkuk, Baiji, Samarra, Tuz Khurmato, Daquq and Dhuluiya to the north, in Ramadi in the west, and Hilla, Latifiya and Mahmudiya in the south, Reuters reported.
In Kirkuk, north of Iraq, two explosions near a police building killed nine people and injured 42 and in Baghdad a car bomb killed four and wounded 11.
Police managed to defuse several bombs in Baquba and Falluja.
Most of the blasts targeted police checkpoints and patrols, sending a clear message of defiance to the authorities.
Security had been stepped up ahead of an Arab League summit set to be held in Bagdad from 27-29 March.
Insecurity and terrorist attacks are still major issues in Iraq, where sectarian violence is on the increase.
In February, at least 60 people were killed in a dozen of coordinated attacks across the country.
While fighting between Shia and Sunni Iraqis had peaked in 2006 and 2007, recent months have been marked by more attacks, further threatening the already divided unity government led by Shia Prime Minister Nouri Maliki.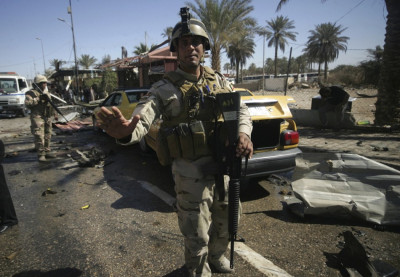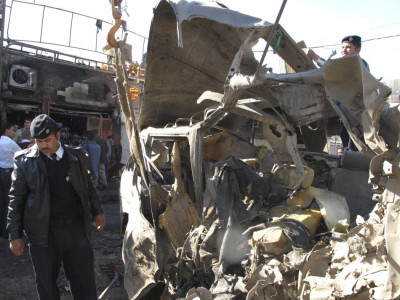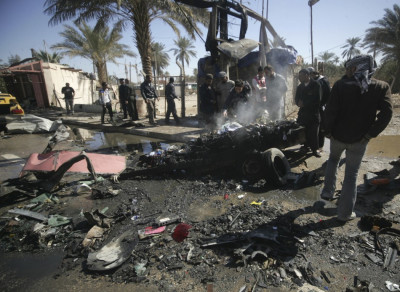 Residents gather at site of bomb attack in Kerbala (Reuters)