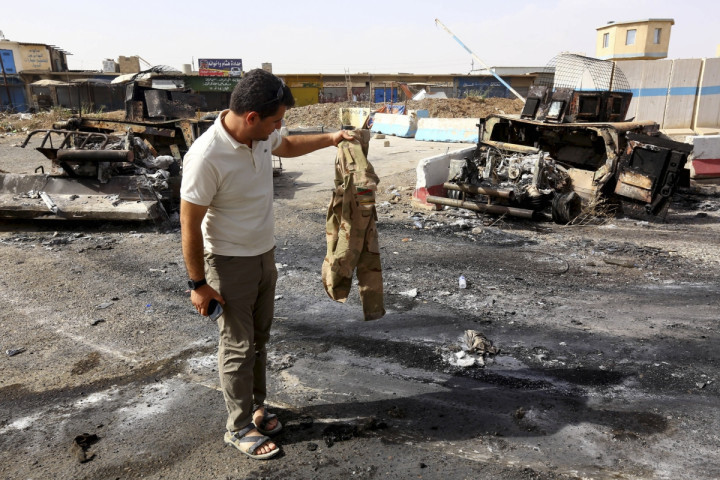 Iraqi security forces are ripping off their uniforms and fleeing naked from the cities that are under siege by Sunni Islamist militants who press ahead towards the capital Baghdad.
Fearing identification and execution by extremists of the Islamic State of Iraq and the Levant (Isil), which is now advancing at lightning speed capturing several cities, the police forces are reported to be on the run.
Their uniforms are lying scattered on the roads of Mosul, Iraq's second biggest city, suggest pictures taken from the streets.
With little resistance from the collapsing Iraqi security forces, the al-Qaida-inspired insurgents are tightening their grip on cities such as Tikrit, the hometown of former dictator Saddam Hussein, and Kirkuk, where Iraq's biggest oil refinery is located.
"Our forces were caught by surprise, they never expected Isil would use police and army Humvee vehicles, we mistook them for government forces and it was too late to stop them. We are fighting devils and not ordinary people," a police captain, who escaped from Tikrit to Samarra, told Reuters.
Tikrit lies between Mosul, the city from where half a million people have already fled, and Baghdad. Overnight, the militants had reached the flashpoint city of Samarra, which is only a little more than 100kms from Baghdad.
On their march, the militants have freed hundreds of prisoners in various cities and are continuously gaining strength.
The rapid speed with which the Islamists are advancing has raised serious doubts regarding the capabilities of the US-trained Iraqi forces and the Shiite-led administration.
The Isil militant group is currently estimated to be in control of about 10 to 15% percent of Iraqi territory.